There are few thing things in life that I enjoy more than a night out with my girlfriends. Really, is there any better way to catch up with friends than with a few drinks (sometimes too many!) and great food? For me there isn't! Last week, one of my closest friends was in town from New York, so the girls and I decided to head out to En Boga Restaurante & GastroBar for dinner.
The restaurant is located at De Diego Avenue in Puerto Nuevo. The area is home to an array of different types of businesses and a few restaurants. Worried about a parking spot? Don't be. The restaurant offers valet parking services.
As I entered the restaurant, the high ceiling and funky hanging metal lamps caught my eye. The walls of the restaurant are covered with an eclectic mix of drawings and personal messages from past clients as well as a chalkboard with a handwritten menu. It has a fashionable yet inviting casual atmosphere that makes you feel welcome. The only thing missing for me was a little background music in order to make it perfect.
After catching up for a little bit, the girls and I ordered our drinks and looked over the menu. It has varied items, which can best be described as international fare with a creative latin touch. The thing I like most about the menu is that it gives you the option of ordering half or a full portion of the main courses. So depending on your mood, you choose your dining experience. Having heard so many good things about the food here, we decided to taste as many of the dishes as possible.
We began our food journey by ordering four appetizers: (1) Octopus Crackling, Smoked Paprika Alioli, and Squid Strips (Chicharrones de Pulpo, Alioli de Pimentón Ahumado, y Tiras de Calamar); (2) Serrano Ham Croquettes with Truffle Alioli (Croquetas de Maduro y Jamón Serrano con Alioli de Trufas); (3) Pork Wings Glazed in Hoisin Sauce and Acerola (Alitas de Cerdo Glaseadas en Hoisin y Acerola); and (4) Argentine Sausage and Yucca Empanada with Piquillos Alioli (Empanada de Chorizo Argentino con Yuca y Alioli de Piquillos).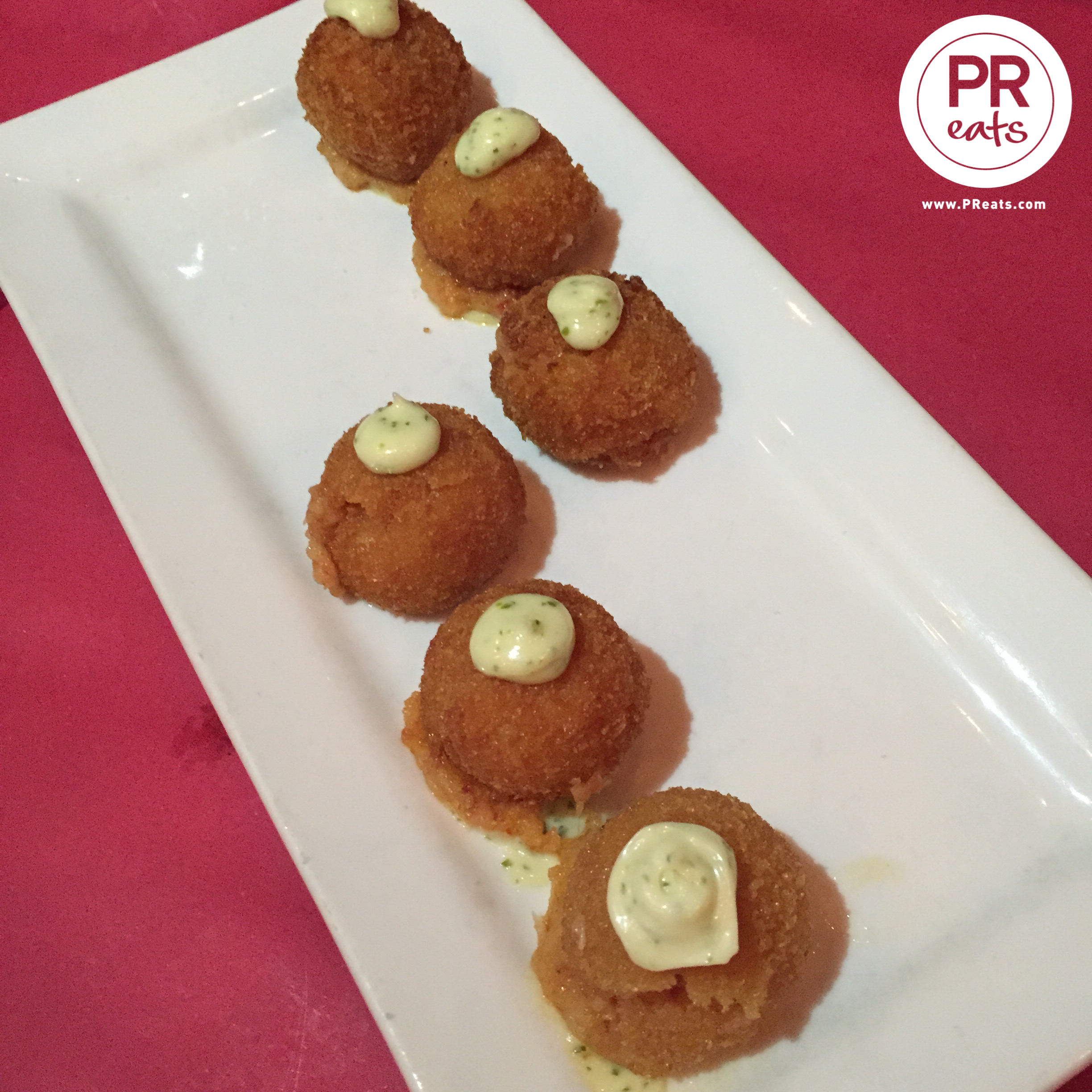 All the appetizers had a great combination of textures and flavors, but the clear favorites were the Pork Wings Glazed in Hoisin Sauce and the Serrano Ham Croquettes with Truffle Alioli. They were simply fantastic!
Still hungry for more, we decided to order three full portion main courses to share. We chose one meat dish, one chicken dish, and one seafood dish on order to get the complete feel of the menu.
As our meat dish, we ordered the Fillet Mignon with Onion Gel, Stilton Cheese Fondue and Corn Meal Sticks Gnocchi (Filete de Res, Fondue de Queso Stilton, Gel de Cebollas y Sorullitos Gnocchi). All I can say about this dish is OH MY GOD! It was a delight for the taste buds. The filet mignon was lean, tender, and cooked just right. The sharp and slightly salty Stilton cheese was the perfect complement for the crunchy yet butter sweet inside of the corn meal sticks gnocchi. This is definitely one of the most creative uses of corn meal sticks I have had the pleasure of tasting since they are typically served as an appetizer.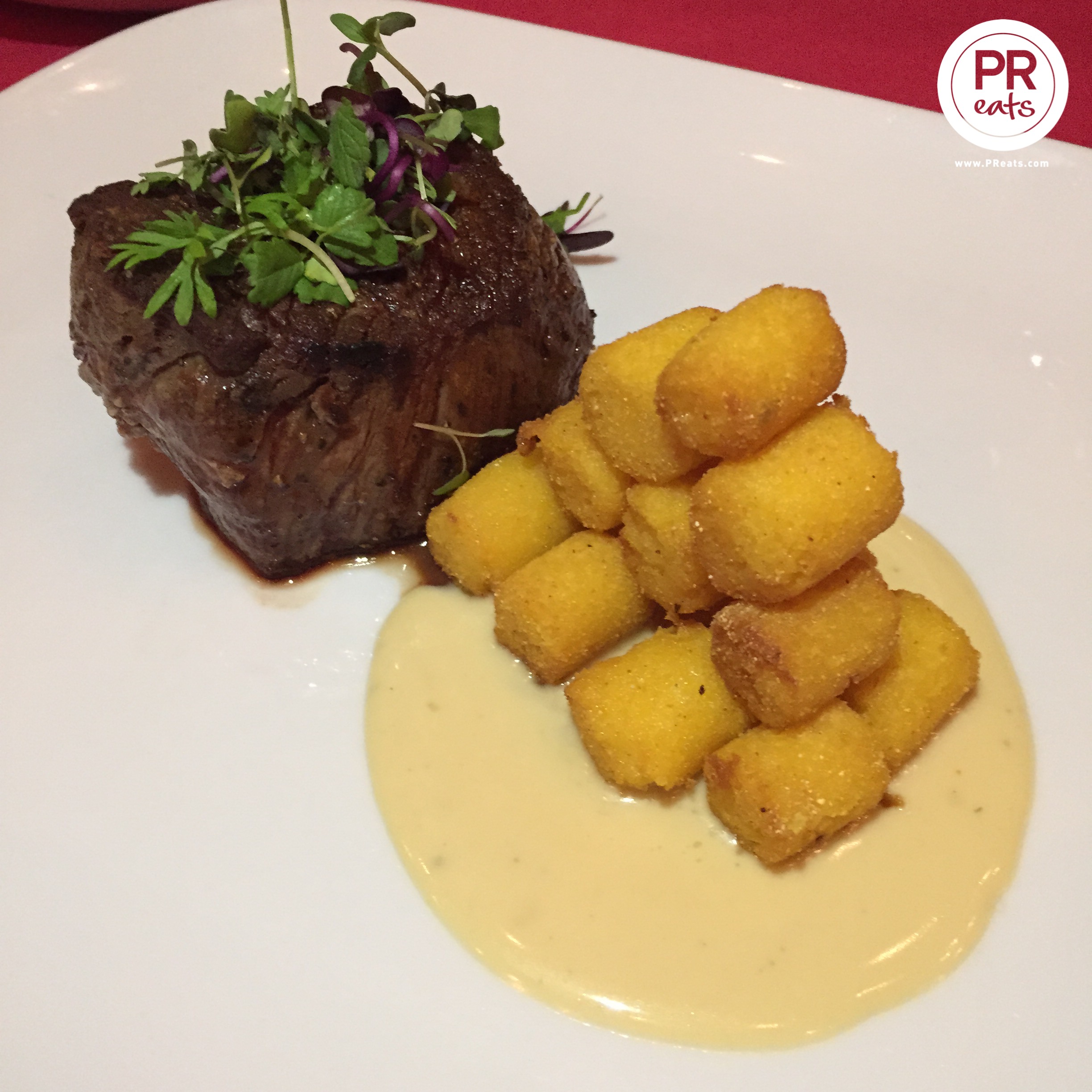 Next up was the Shrimp over Parmesan Risotto, Spinach, Longaniza Sausage Bechamel Sauce and Baby Scallops (Camarones, Risotto Parmesano, Espinacas y Bechamel de Longaniza con Baby Scallops). I have always loved the combination of seafood and risotto so this dish hit the spot for me. The creamy and buttery yet savory Longaniza Sausage Bechamel Sauce combined with the Shrimp and Scallops was delicious!
For our final dish, we had the Breast of Chicken, Chorizo Sauce, and Bacon with Goat Cheese Foam (Pechuga de Pollo, Salsa de Chorizo, Dátiles y Bacon con Espuma de Queso de Cabra). The dish was filled with remarkable flavors and of course, you can never go wrong when combining three of my favorite things on the same plate: chorizo, bacon, and goat cheese. YUM!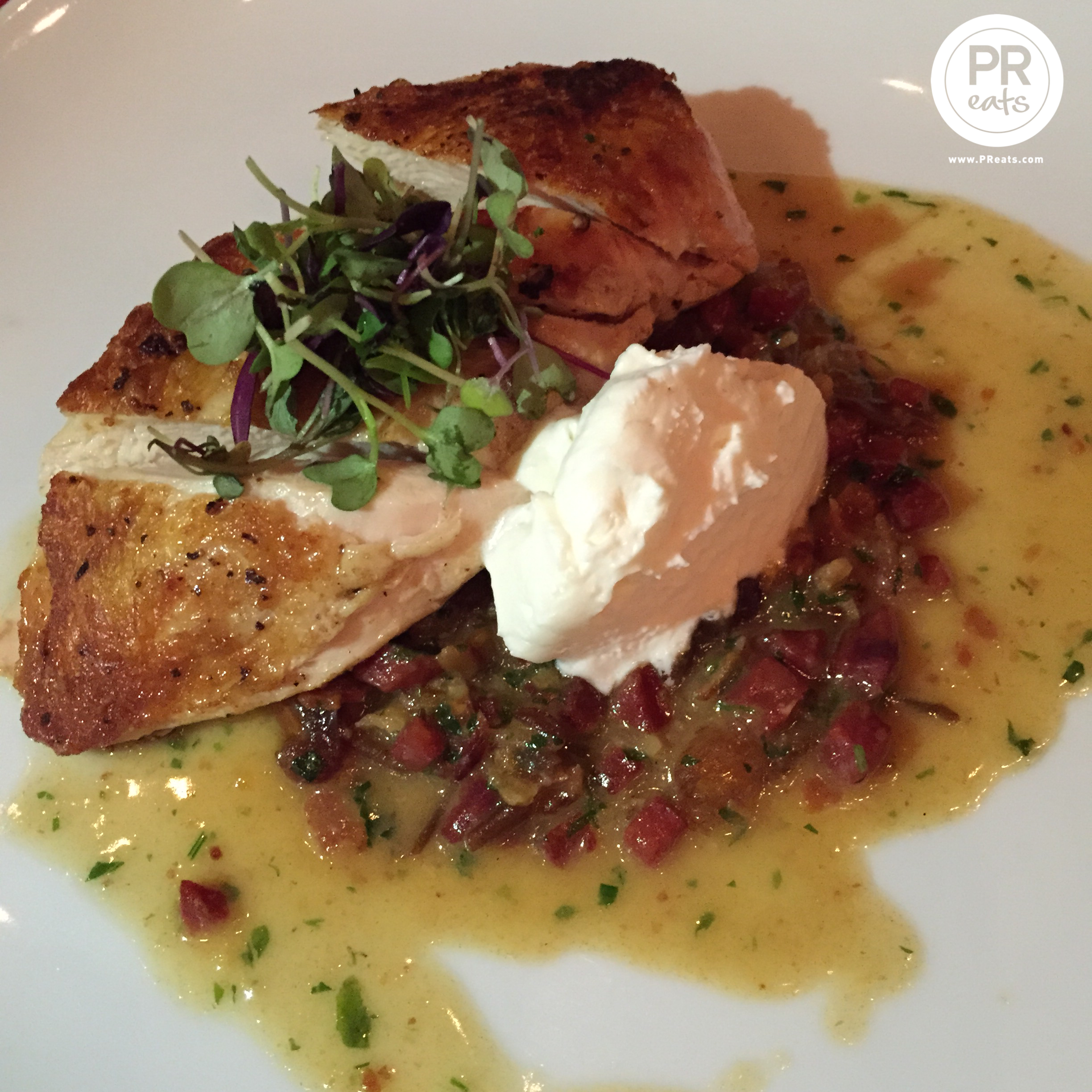 En Boga Restaurant & GastroBar offers a delicious culinary experience with prompt and friendly service. The prices for appetizers range from $6.00 to $16.00 dollars and main courses from $10.00 to $30.00 dollars depending on if you choose a half portion or a full portion. They also have a variety of desserts that we did not get to try but will surely come back soon to do so. This restaurant was quite busy when we went there, but it might be quieter at times. The restaurant is fairly new, so it might just be regulars in the restaurant. However, the owner should really consider investing in some marketing to make sure more people hear about this lovely restaurant. Perhaps they could consider getting some help from an seo company for this. They could boost their online visibility, ensuring that more people in the local area find this restaurant when they search online. Hopefully, this will lead to new customers.
En Boga is available for lunch and dinner.
[su_note note_color="#e5e4e2″ class="infobox1″] Location:
308 De Diego Avenue, Puerto Nuevo, Puerto Rico
[su_gmap address="En Boga Restaurant and Gastro Bar"]308 De Diego Avenue, Puerto Nuevo, Puerto Rico[/su_gmap]
Telephone: (787) 967-2244
Payment Methods: Major credit cards accepted.

Parking: Yes.[/su_note]
---
---
You might also like
---