Often frequented by locals, Bottles is part small gourmet deli/market (in the front) and part restaurant. As you pass through the deli/market area, you enter into the restaurant where you will be surrounded by floor-to-ceiling wine racks. It has a casual and vibrant atmosphere. However, it can get a little loud sometimes since the place is usually crowded and the tables are placed very close to each other.
A few weeks ago, Fernando and I stopped at Bottles for dinner. After being seated, our server brought the menu to our table (disclaimer: the portions at Bottles are incredibly generous so be prepared to share. It is literally impossible to finish a main course by yourself). Since we know that the portions are "caveman style" we decided to order the Steamed Mussels as an appetizer and the Prime New York Striploin as our main course.
The mussels come in a lovely creamy white wine sauce with garlic bread (perfect for dipping!). They were so delicious that after I was finished with the mussels I wanted to take the spoon and have the rest of the sauce as a soup (YUM!). As you can see by the picture below, I was not kidding when I told you the portions were huge! The appetizer alone is a sufficient meal.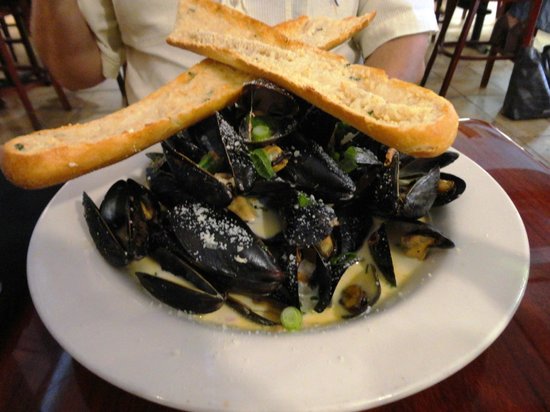 Then the main event arrived: the Prime New York Striploin. The steak was perfectly seasoned and cooked as ordered (medium rare). Simply divine!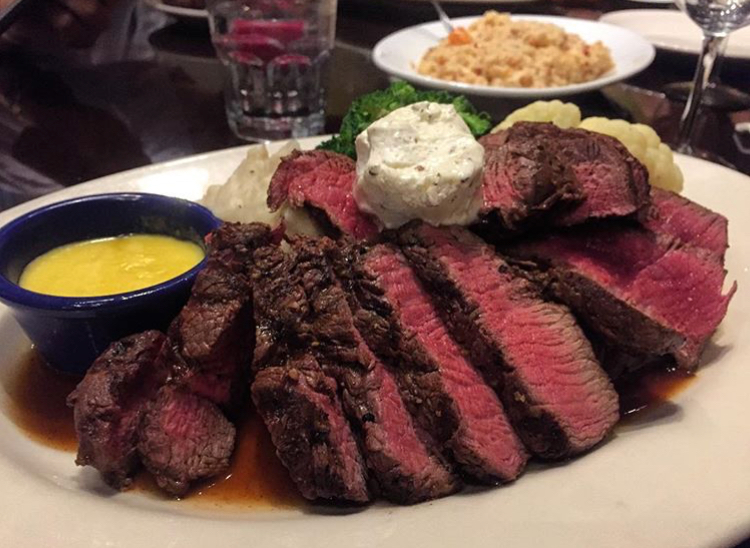 My only problem with Bottles has to be their lackluster service. They seem to ignore the importance that service has to the success of a restaurant. Bottles has been lucky in this aspect since their less than okay service is often overlooked by their amazing food.
Regardless of the above, Bottles offers delicious food and an even better wine selection which can accommodate any palate or budget. It is by no means cheap; however, you get what you pay for and then some with the quality and especially the quantity of their dishes.
[su_note note_color="#e5e4e2″ class="infobox1″]Location:
5 Tabonuco Street, Guaynabo, Puerto Rico[su_gmap address="Bottles 5B Cll Tabonuco Guaynabo Puerto Rico"]Road 14, #1721, Ponce, Puerto Rico[/su_gmap]
Telephone: (787) 775-1210
Parking: Limited parking available
Payment Methods: Major credit cards accepted.

***UPDATE: On November 15, 2013 (a few months after this review was originally published) Bottles moved to the strip mall located right in front of the old Bottles. For additional information please visit their Facebook page.[/su_note]
---
---
You might also like
---