Fusions, wine pairings, art, heritage and culinary history are some of the indulgences at the newest pop-up restaurant in Miami: Acentos & Paladares Guestaurant. This pop-up with a twist promises to tantalize your senses by serving you six-course scrumptious meal with its respective wine pairings that serves as a platform to launch the featured chefs into the culinary limelight. The purpose of the event is simple, to delight foodies with the creativity of the featured chefs and their flirtatious dance with the traditional recipes of Latin-American countries. All with the mission of evaluating our culinary artists and their talents in order to qualify them to enter the Excellence Bureau and The Federación Latinoamericana de Gastronomía.
Each culinary team is a result of a meticulous gathering of the cream-of-the-crop of Latin American kitchens. Our diners and foodies are the judges and supporters that will drive the team to success and to be part of a new brand: the Latin-American Culinary Excellence. The featured chefs include: Giovanna Huyke, Leovaldo Mendoza, Raimundo Rincon, Yara Zoe Mage, Pedro Calderon, Michael Rosado, Christian Quinones. The sommelier for the event will be Ernesto Maldonado. The event will take place on August 14-16, 2015 from 7:00 p.m. to 10:00 p.m.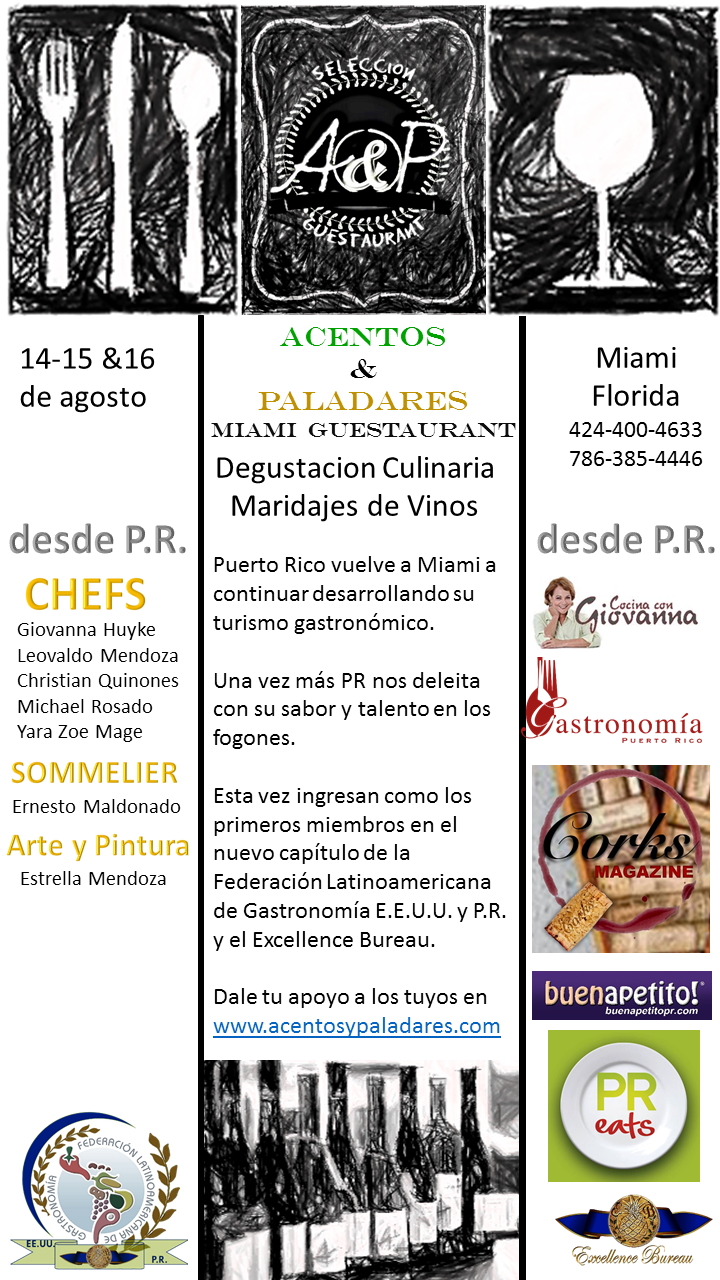 The Excellence Bureau and the Federación Latinoamericana de Gastronomía (Latin American Gastronomy Federation) will taunt your palate with this innovative culinary dream of raising the bar on service and hospitality, as well as, its goal of taking Latin-American gastronomic tourism to the next level. This theme driven dinner-adventure of history, culture, art and flavor seats only 45 foodies per event. However, there is plenty of opportunities to support your favorite chef. These palatable evaluations will take place every month to lead new and seasoned chefs into their new culinary journeys. For additional information and tickets visit: www.acentosypaladares.com or call (424) 400-4633 | (786) 385-4446.
---
---
You might also like
---