For months I had been lusting over their Instagram page. Each picture just made my mouth water and had the power to instantly make me desperately crave the dishes featured. Indeed, food porn at its finest. The culprit? Café Marquesa. 
Tucked away in a residential street in the Santurce area is Café Marquesa. The ambiance can be best summed up as a laid back bistro feel. The main dining hall has eight small tables and a medium sized bar. If you prefer to eat outdoors, they also have available two tables on the outside of the establishment overlooking the quiet street. Its menu includes traditional brunch items, artisanal pizzas, hamburgers, sandwiches, soups, salads, and daily specials.
A few Sundays ago, my girlfriends and I wanted to go to brunch. Being the go-to gal for my friends on where to go and eat, I usually have a say on where we end up going. So, I suggested that we pay Café Marquesa a visit. Score! Since we were a big group, I called ahead and attempted to get reservations for Sunday at 12:00 p.m. Sadly, an employee of Café Marquesa explained that they do not take reservations for brunch. She suggested, however, that I get there earlier, around 11:00 a.m. to ensure a table.
I followed her advice and arrived at Café Marquesa at 11:00 a.m. sharp. The place was packed. I was quickly greeted at the door by one of their super friendly servers called Javi. He informed me that my table might take a while, but offered me a spot at one of their outside tables. It was hot as the gates of hell outside Café Marquesa, so I decided to order a refreshing cocktail to get me started. Slowly but surely, my girlfriends started to arrive. Once they were all there, Javi told us the great news that a table had just cleared up and we were seated right away.
We were incredibly hungry at this point so without even putting a lot of thought into it, we ordered the Bacon Croquettes and the Beef Sliders as our appetizers. The Bacon Croquettes arrived at the table with a side of aioli. The fried pillow of crispy deliciousness that is the croquette combined with salty and creamy bacon filling was the perfect start to our brunch.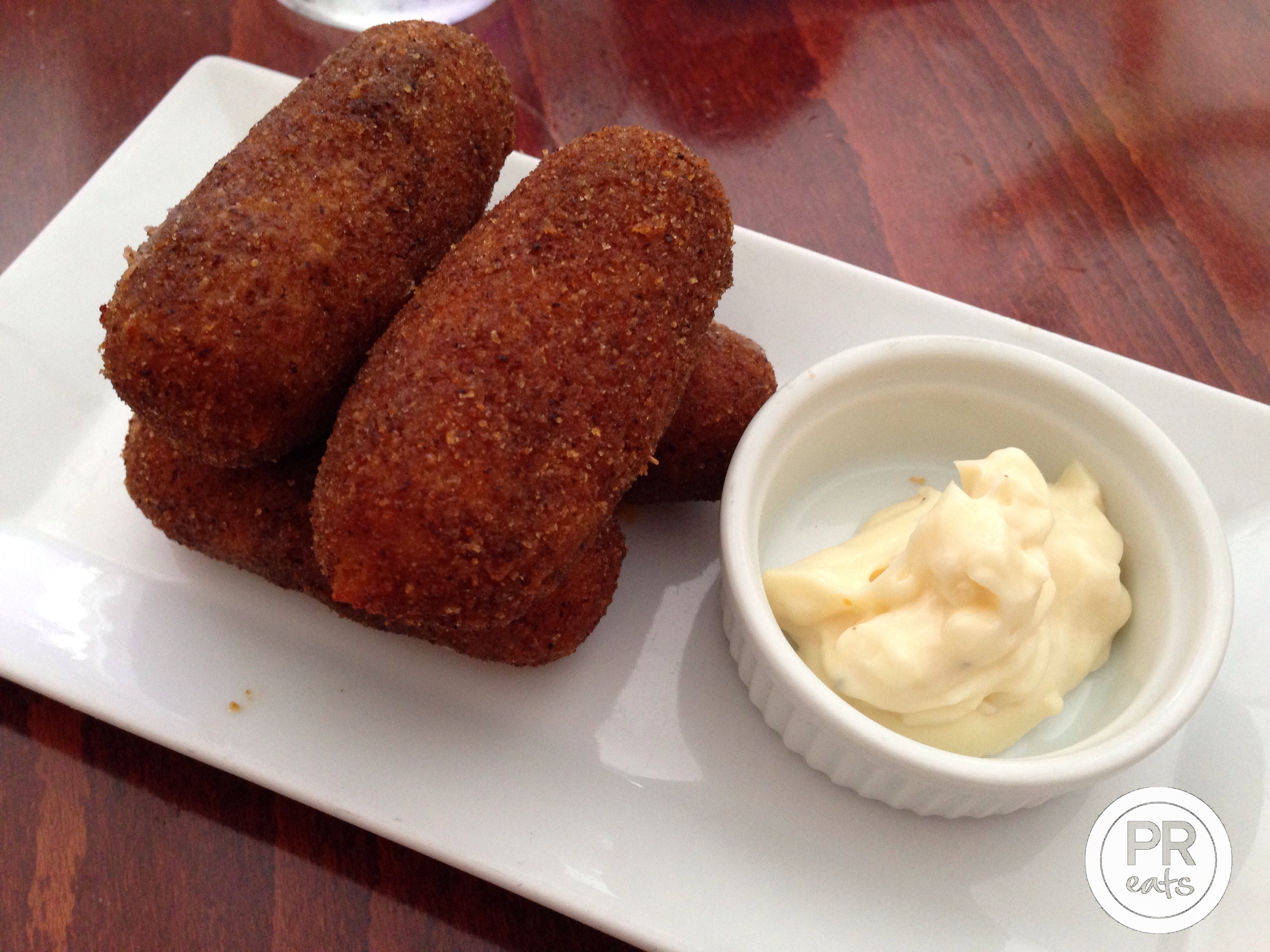 Up next were the Beef Sliders. Who can resist them right? The petite size burgers are a sure winner and let me tell you, these babies just hit all the right spots. Each scrumptious bite was incredibly juicy and packed with flavor. A must have when visiting Café Marquesa.
It was now time for the main event. Our first dish was the Eggs Benedict. They were out of salmon when we made the order, so we opted for a bacon substitute instead. They are served with a small side of home fries. The dish was beautifully executed. The perfectly poached egg had a magnificent runny yolk, the finger liking hollandaise sauce had just right amount of citric to complement the dish, and the toasty English muffin were a luxurious delight. NOM NOM! Next time I promise to wake up earlier to try them with the salmon.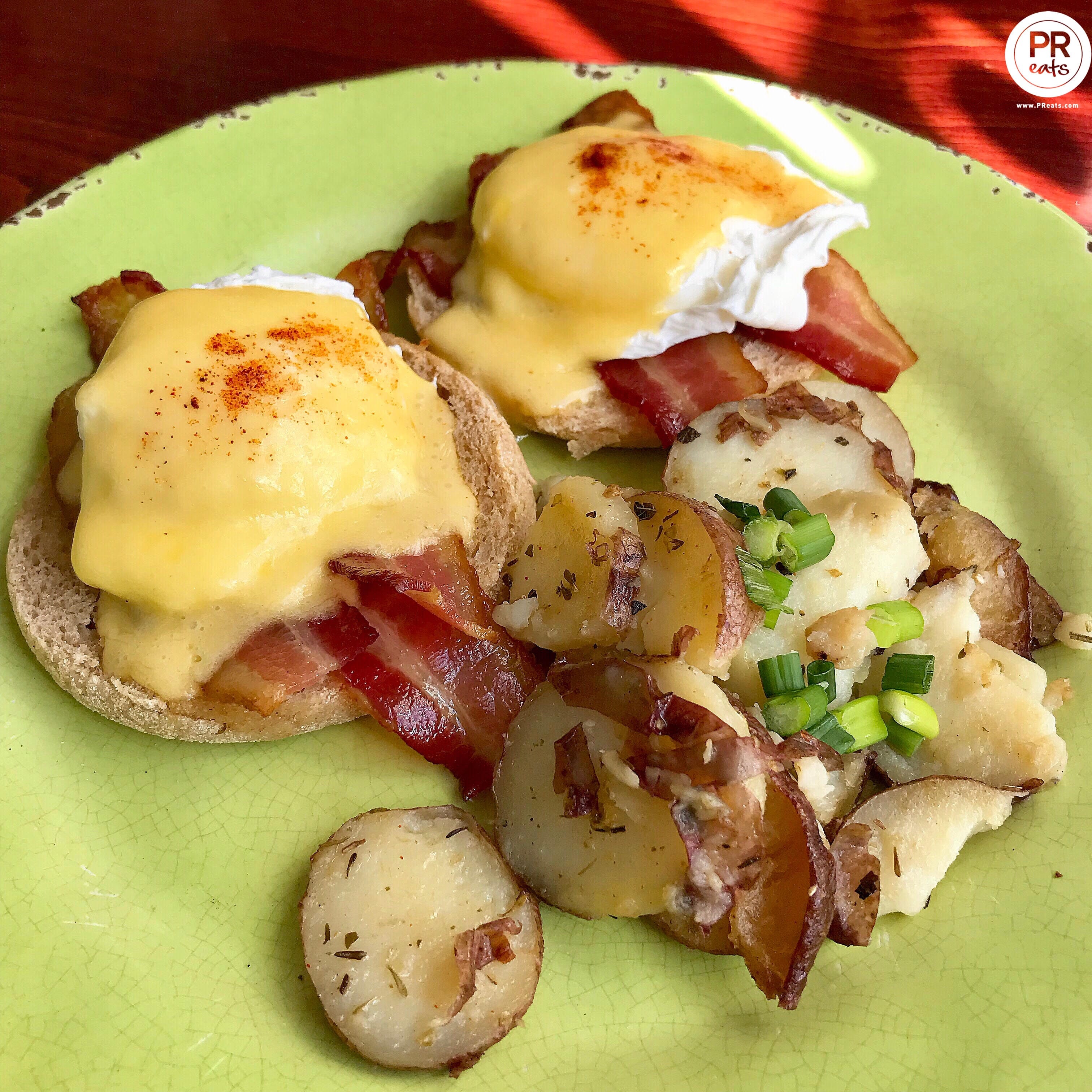 The star of the day was the Brunch Risotto. An incredibly creamy risotto with bacon topped with a gorgeous poached egg and hollandaise sauce. How can you go wrong with that combination?  Whether you enjoy breakfast for dinner or dinner for breakfast, you will quickly fall in love with this spectacular dish.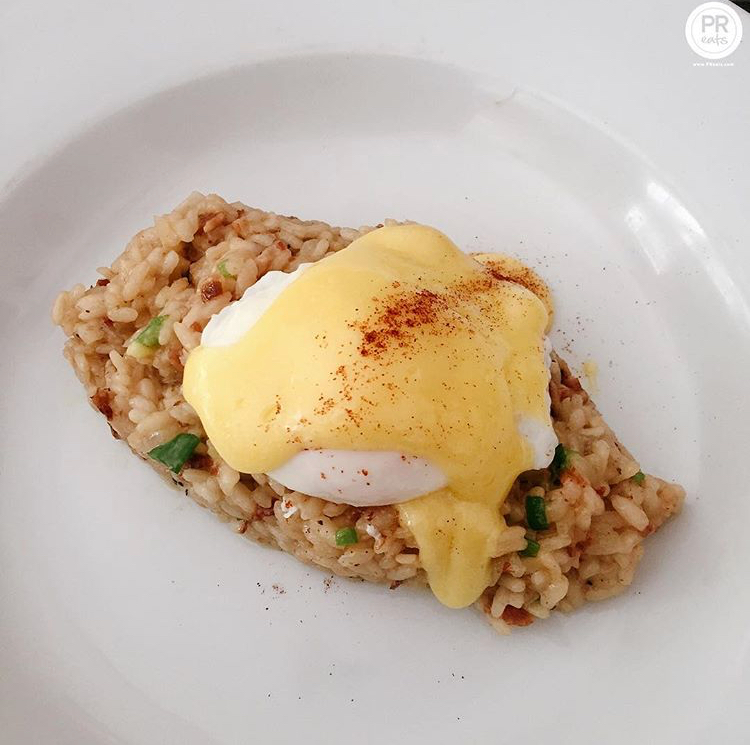 When visiting Café Marquesa, be prepared to be swept of your feet by their high quality food and their stellar service. Since that visit, it has quickly become one of my favorite places for brunch and overall dining in Puerto Rico. Chef Jorge Vazquez's attention to detail in each dish is present in every bite. Café Marquesa also features amazing creative cocktails made with liquors from the WorldClass collection. I recommend you try my personal favorite which is The Black Stallion (Johnnie Walker Black Label, Kapali Coffee Liqueur, Cream Liqueur, Angostura Orange Bitters, and Espresso). You can thank me later for that one! Also, don't miss the house made artisanal pastries and breads.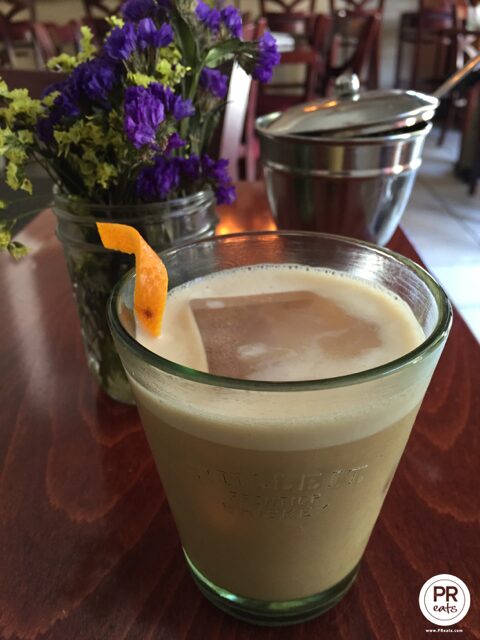 Café Marquesa opens Wednesday through Sundays. Its operating hours are Wednesday and Thursday from 8:30 a.m. to 3:30pm. Friday and Saturday from 8:30 a.m. to 10:30 p.m. and Sundays from 8:30 a.m. to 4:00 p.m. Insider tip: the place gets extremely busy on the weekends for brunch, so come prepared to wait a bit to be seated. But don't worry, the wait is well worth it.
[su_note note_color="#e5e4e2″ class="infobox1″]Location:
110 Del Parque Street, Santurce, Puerto Rico[su_gmap address="Café Marquesa puerto rico"]Suchville Gallery, Guaynabo, Puerto Rico[/su_gmap]
Telephone: (787) 545-2621
Payment Methods: All major credit cards accepted

Parking: Yes.[/su_note]
---
---
You might also like
---