Imagine yourself watching the sunset with your feet in the sand and a refreshing cocktail in hand. The light ocean breeze gently caressing your body as you savor delectable eats with friends or that special someone. At Positivo Sand Bar this is not a dream, it is a reality.
Located both poolside and beachside at the Dorado Beach Hotel, A Ritz Carlton Reserve, this is not your typical hotel bar. At Positivo Sand Bar you can enjoy an al fresco dining experience while indulging in their impressive selection of tapas style dishes, as well as, their wide variety of fresh sushi all by the hands of Chef Suttiphan Ngamtipakon. In this beautiful open air deck you have the option of being seated in the main dining area right next to the bar or in the lounge chairs and tables set in the sand right by the beach.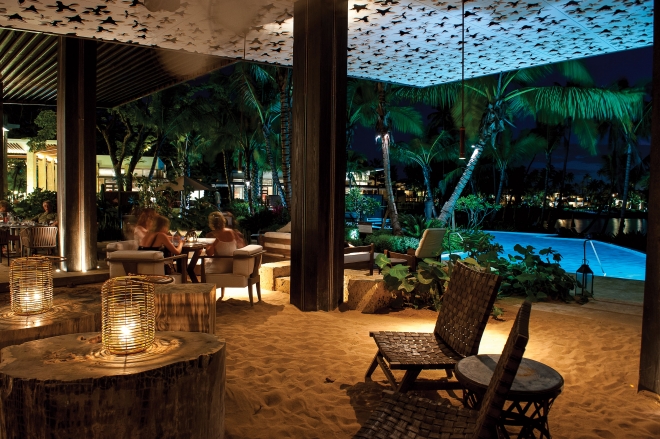 Recently, we were lucky enough to be invited with a select group of media to taste the new menu at Positivo Sand Bar. As soon as we arrived, we were greeted with the house cocktail. After taking a quick stroll by the beach, we sat down in preparation for the culinary parade to follow.
First up was the Tuna Taco. The taco was made up of a crispy malanga shell and stuffed with spicy tuna tartare in a mango salsa. Vibrant, light and packed with flavor, take one bite of this dish and you will be hooked.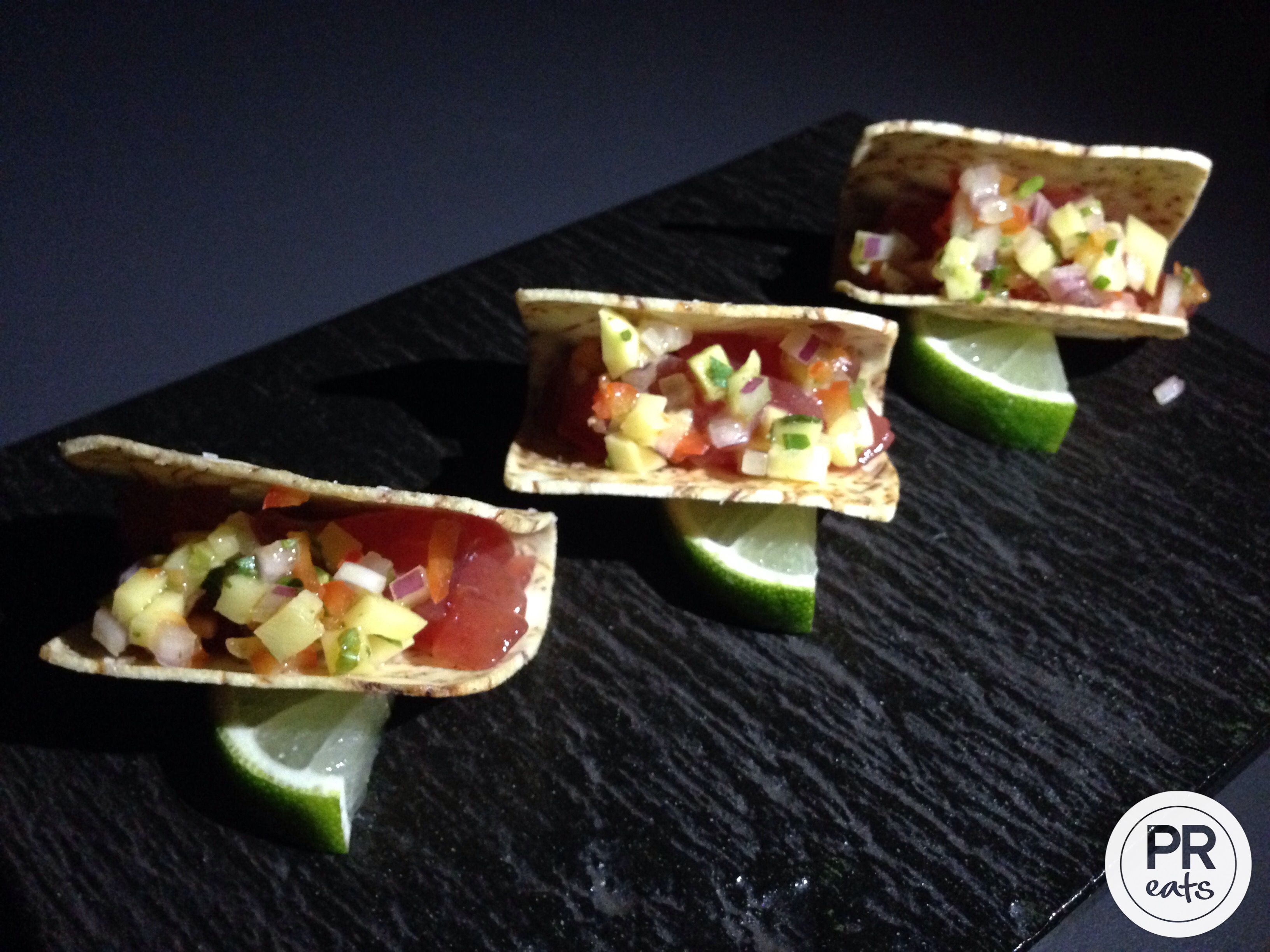 Next up, we were served an assorted platter featuring salmon, white tuna, fluke, and snapper sashimi. Beautifully presented, the thinly sliced pieces of fish were extremely fresh. Add a dab of soy sauce and wasabi and you have yourself heaven in your mouth.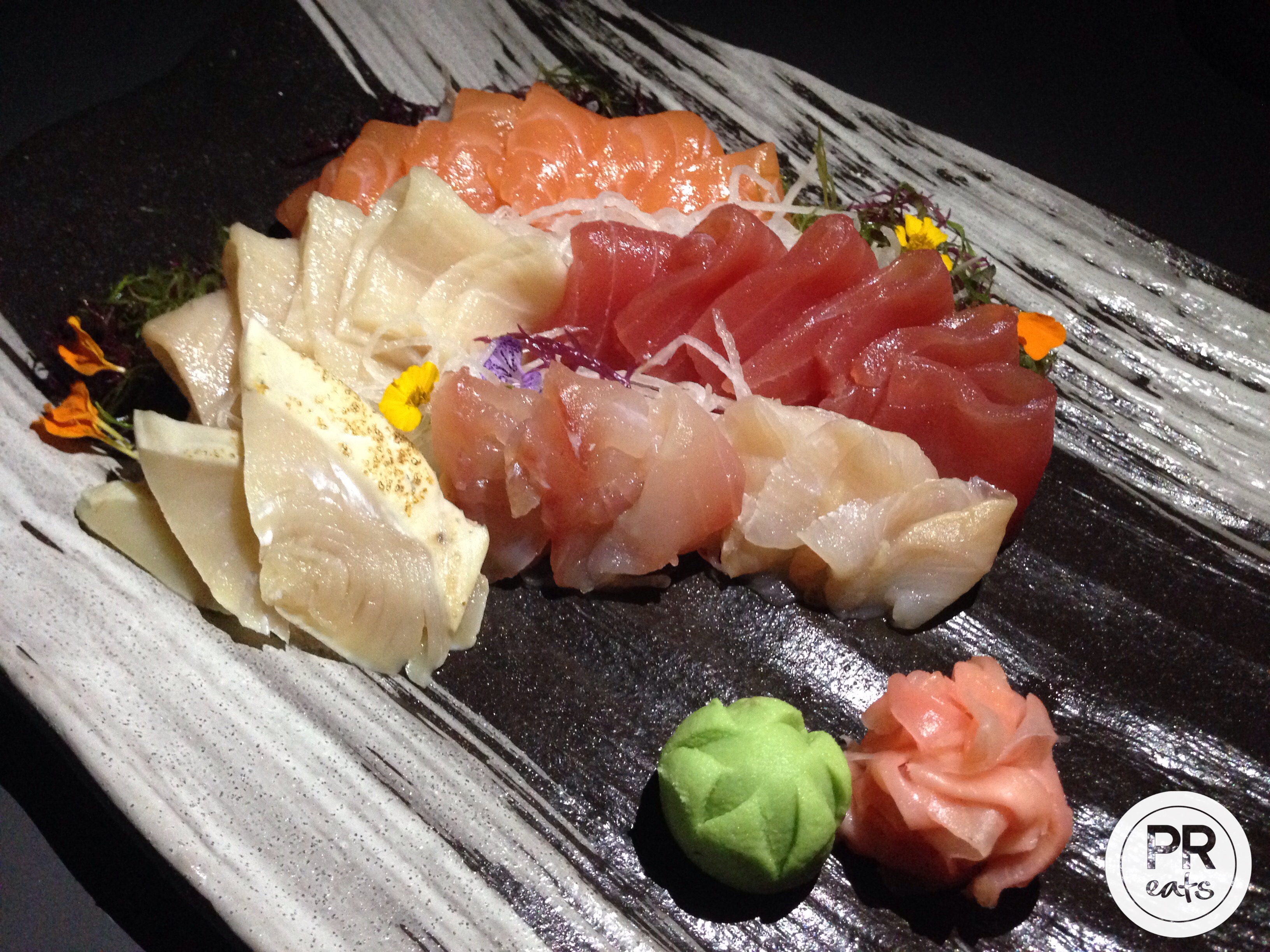 As our third dish, we had an assorted platter featuring fluke, tuna and octopus nigiri. For those of you who are not familiar with nigiri, it is a type of sushi that gets its name due to the specific portion of rice on which the fish rests upon. Nigiri in Japanese means two fingers, hence, the portion should fit in the chef's two fingers. Once again the decadent pieces of fish were the star of the dish.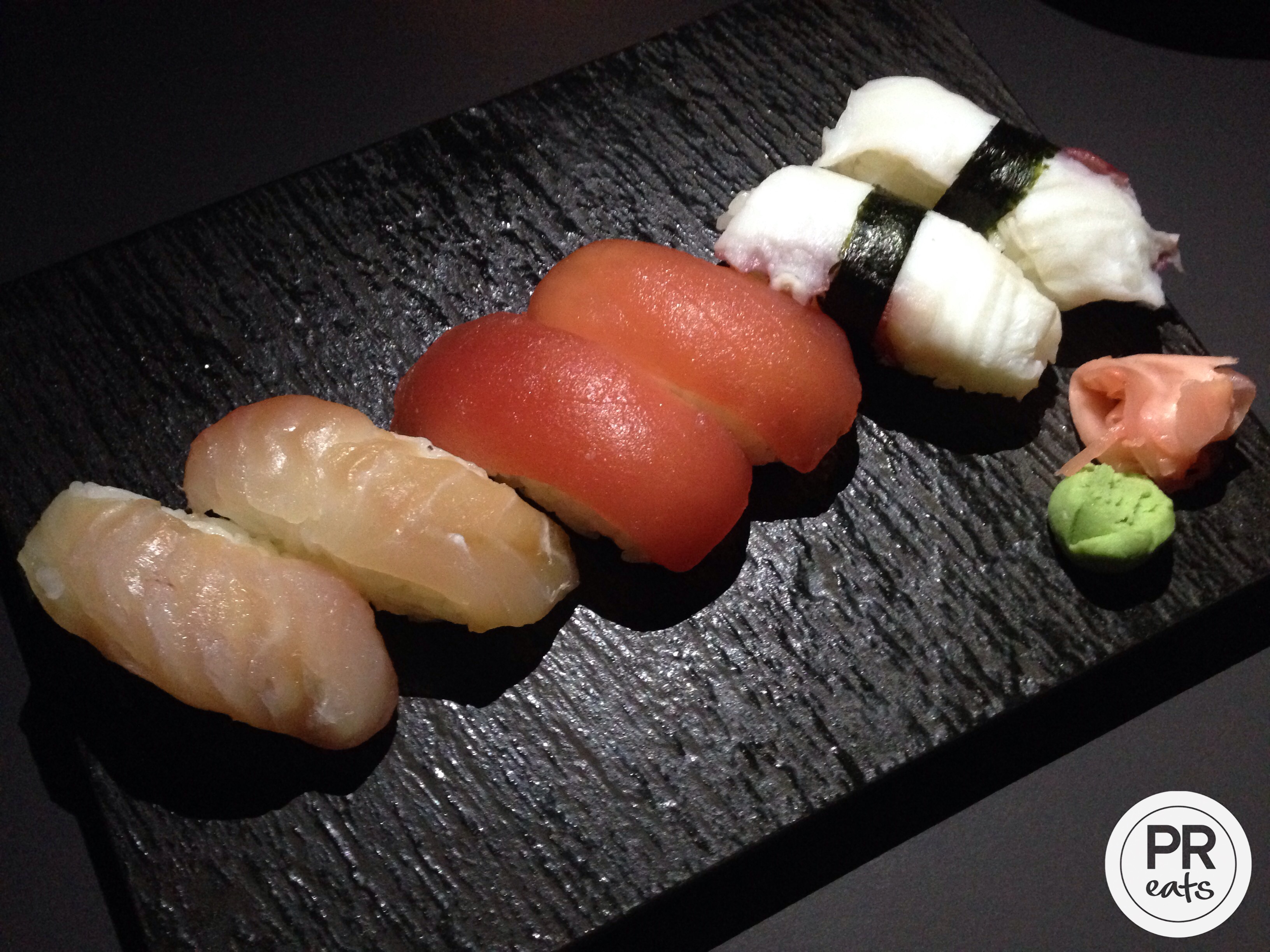 The sushi was quickly followed by a bowl of crispy fried snapper in a sichuan sweet and spicy glaze. This dish has it all! Great texture and a welcome kick of spice.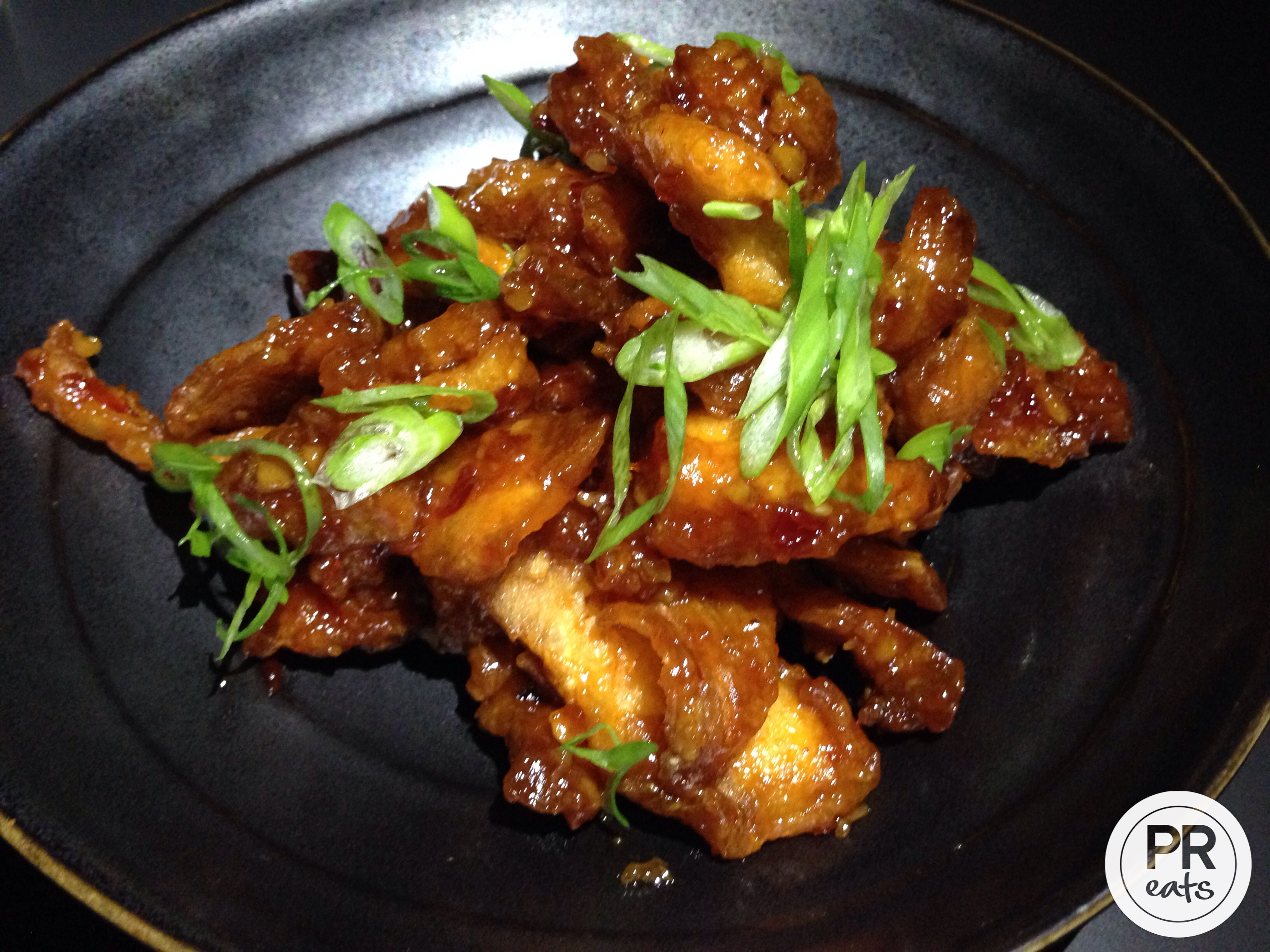 Next up was another one of my favorite dishes, the Butabara Bun. It consists of a Hong Kong style roasted pork belly on a steamed bun with house made kimchi. The mouthwatering pork belly cushioned between the soft pillowy steamed buns was just what the doctor ordered for me. The house made kimchi added the perfect kick of spice to complement the dish. An amazing combination of textures and flavors.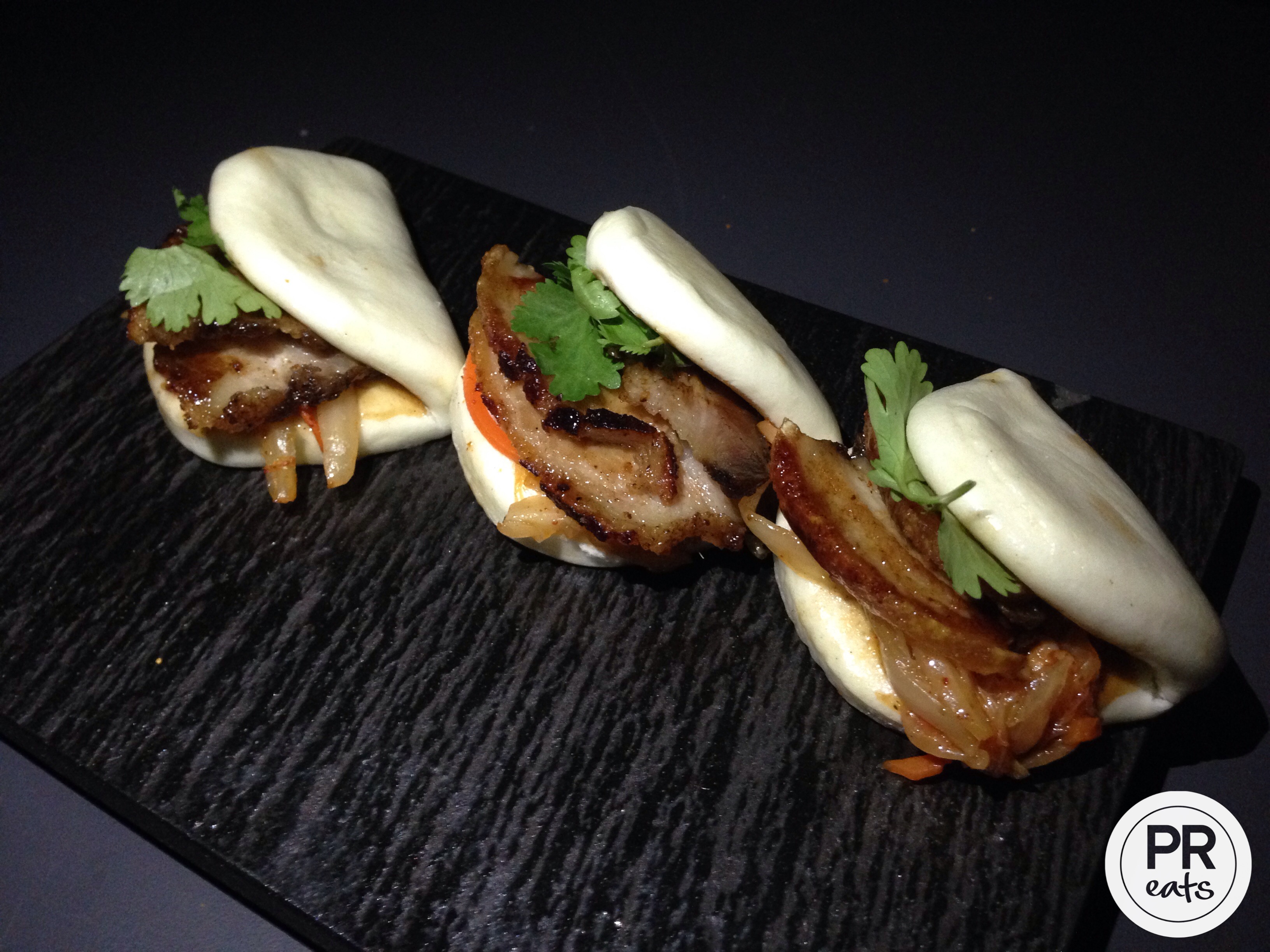 Our sixth course was the Hamachi Ceviche. It featured yellowtail sashimi, lemongrass, lychee caviar and had a side of yautía chips. The dish did not have the typical acidic ceviche flavors, it was mostly sweet.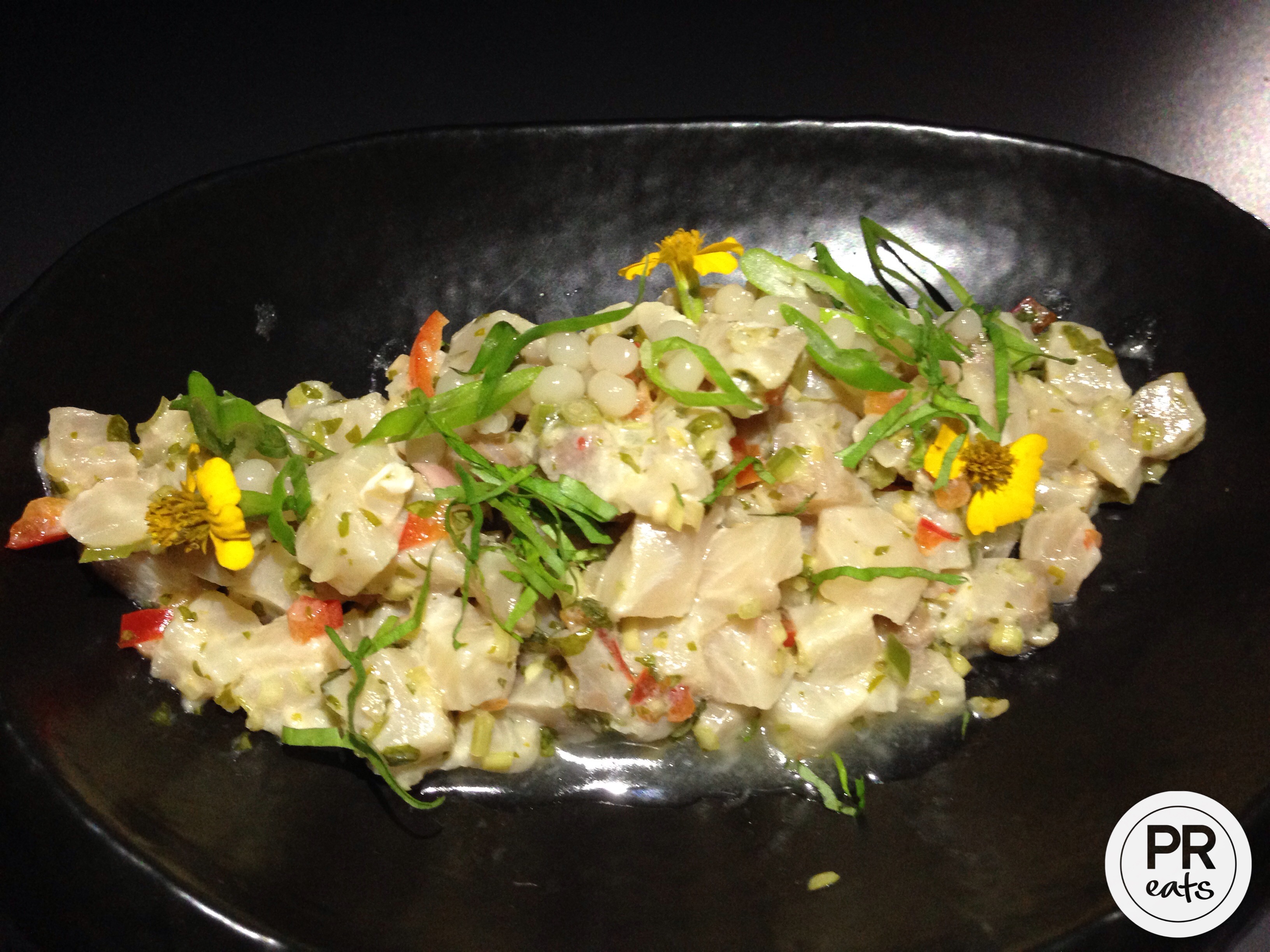 It was dessert time and Chef Ngamtipakon delighted our sweet tooth with a Green Tea Almond Cake, Mango Sorbet and Black Sesame Ice Cream, a Pandan Crepe made with molasses, fresh grated coconut, chocolate chilli cauce and vanilla ice cream, and a Chai Creme Brûlée with Hazelnut Ginger Snap. A spectacular finish to an amazing meal.
Positivo Sand Bar is open for lunch Monday through Sunday from 11:00 a.m. to 5:00 p.m., but this is limited to hotel guests only. They are open for dinner from 6:00 p.m. to 10:00 p.m. and this is open for the general public. For reservations or inquiries call (787) 278-7223.
[su_note note_color="#e5e4e2″ class="infobox1″]Location:
Dorado Beach Hotel, A Ritz Carlton Reserve,
100 Dorado Beach Drive, Dorado, Puerto Rico[su_gmap address="Dorado Beach Hotel, A Ritz Carlton Reserve, 100 Dorado Beach Drive, Dorado, Puerto Rico"]
Telephone: (787) 278-7223
Payment Methods: All major credit cards accepted

Parking: Valet Parking available.[/su_note]
---
Cocktails
,
dinner
,
Dorado
,
Dorado Beach
,
Eat Local
,
foodies
,
Positivo Sand Bar
,
Puerto Rico
,
Puerto Rico Eats
,
Ritz Carlton Reserve
,
Support local
,
Where to Drink in Puerto Rico
,
Where to Eat in Puerto Rico
---
You might also like
---