It is no secret that I am always complaining about the lack of Thai and Indian restaurants in the metropolitan area. Aside from Bangkok & Bombai (serving both Indian and Thai) and Mumbai (serving Indian), you really had no other choice. Neither of them are my cup of tea, so when I was in the mood for good Thai food I headed to One Ten Thai in Aguadilla to get my fix. The only problem with that was the two-hour drive.
Recently, through Facebook, I found out that Mai Pen Rai, a Thai restaurant, would be opening in Canals Street in Santurce. Since then, I practically stalked their Facebook page daily to find out when they would be opening. Two weeks ago they finally did. I was so eager to try the restaurant that I decided to go by myself.
Mai Pen Rai is modest in size (no more than 15 tables) and decorated with umbrellas on the ceilings reminiscent of Bangkok's night markets.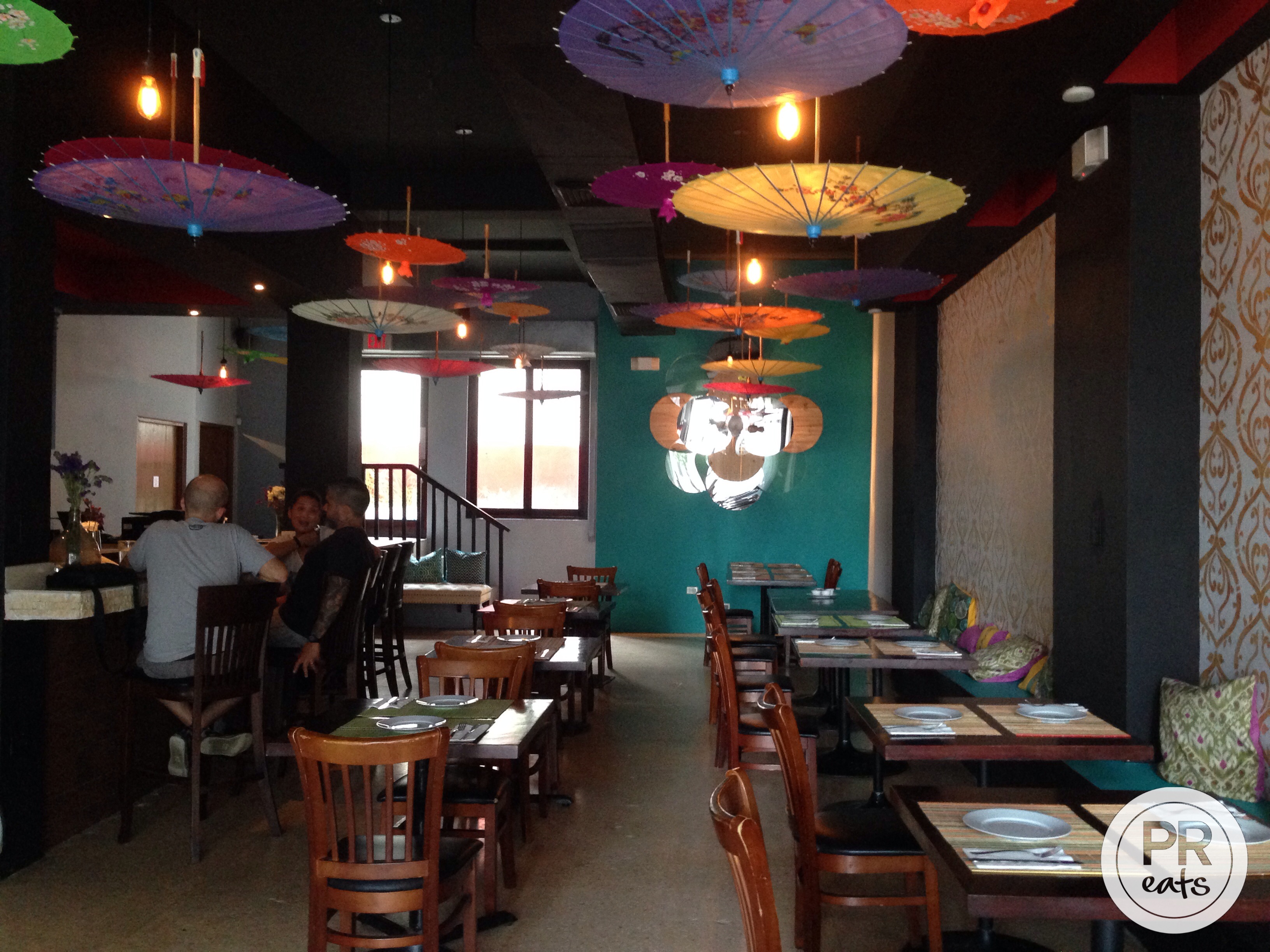 As soon as I arrived, I was greeted by my server and taken to my table. She took the time to explain the menu items thoroughly and give her recommendations on what to order. She then brought out a spice tray which featured the following: Fresh Thai chili in fish sauce, fresh Thai chili in vinegar, dried chili powder, and fried garlic and chili in oil. These were meant to up the spice level of your dish to your liking.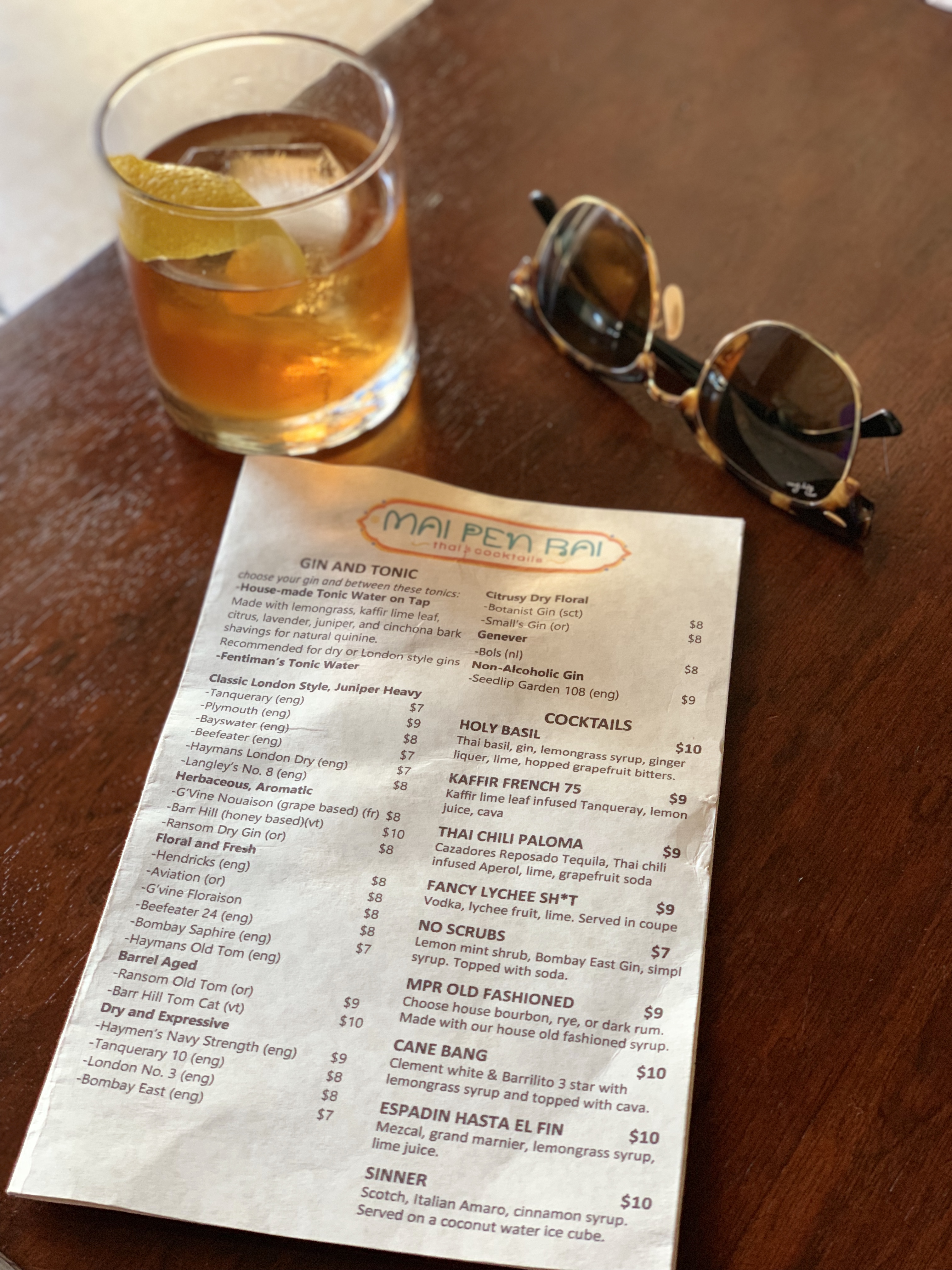 As my main dish, I ordered the classic Vietnamese dish Banh Mi. My choice of protein was the BBQ Pork which paired beautifully with the pickled veggies and the wonderful flavors of this heavenly sandwich.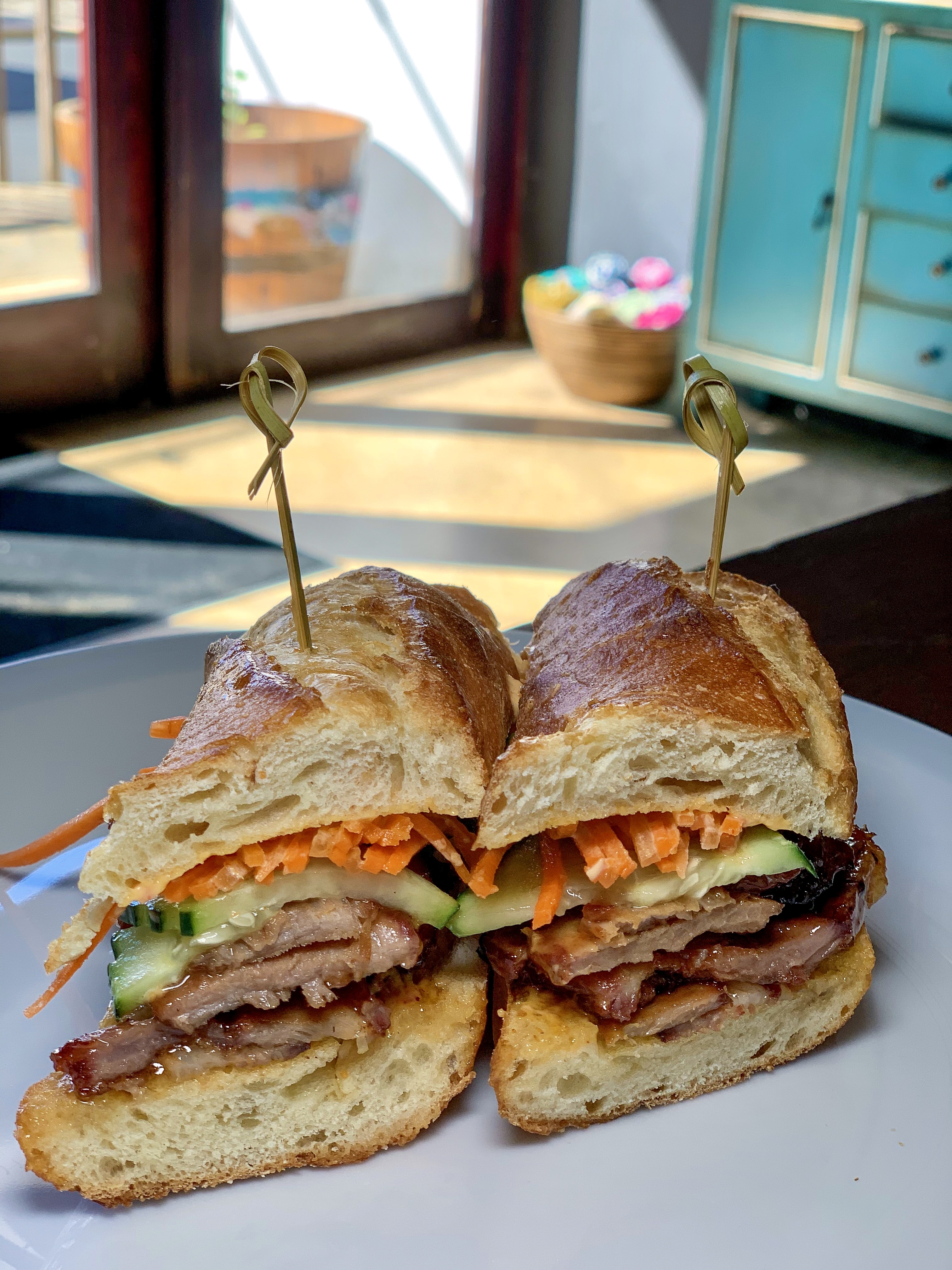 After the amazing meal I had at Mai Pen Rai, I could not wait to bring my husband Fernando along to try it. That is why, literally the next day, Fernando and I headed over there for lunch.
As an appetizer, we split the Sweet Dried Beef (Beef Tenderloin strips marinated in soy and sesame, then flash dried, served with chili lime dipping sauce, and sticky rice). The best way I can describe the beef in this dish is that it has a similar texture to beef jerky, although not as dry. The brittle beef was very crispy on the outside and wonderfully moistened with flavors on the inside. The dish is served with warm and chewy sticky rice. A match made in heaven if to you ask me. Top it off with the slightly spicy chili lime sauce and you are in for a real treat.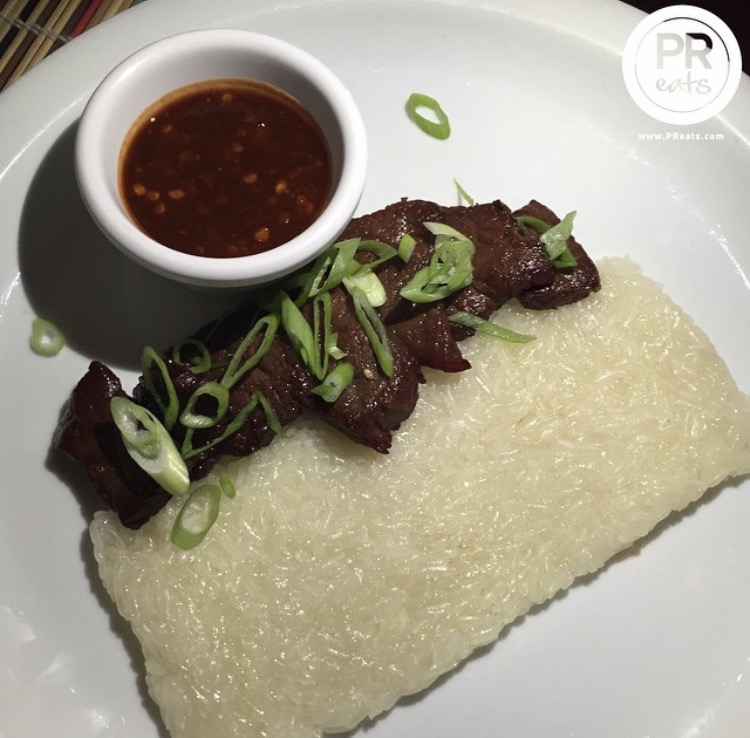 As his main dish, Fernando ordered the Shrimp Green Curry (Coconut green curry stewed with bamboo shoots, carrots and peapods). The vegetables were perfectly crispy, the shrimp perfectly cooked, and the curry scrumptious. Pro-Tip: If you are a spice junkie like me, make sure you let your server know that you want the heat level raised on your favorite dishes. The kitchen will be happy to crank it up for you.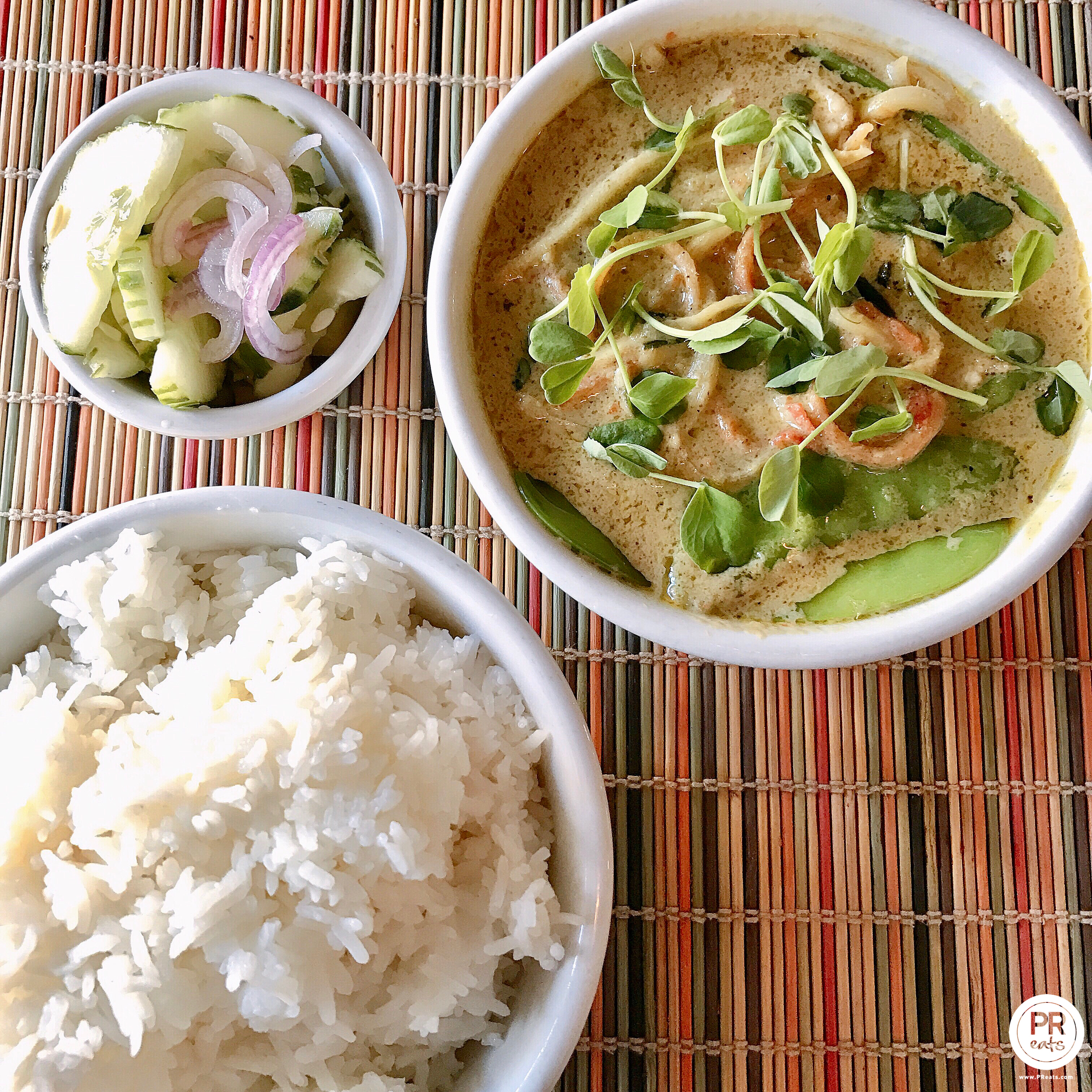 I was torn between ordering noodles or the Bahn Mi, which is a Vietnamese sandwich that I love, and is featured on the menu. I decided to go with the BBQ Pork Drunken Noodle (Fresh Chow Fun Noodles stir fried with Thai Basil, Tomato, Broccoli, Onions and Eggs in Thai Chili Garlic Soy Sauce). This spicy, garlicky and salty dish is one of my favorites. I particularly enjoy the wide rice noodles used in the dish.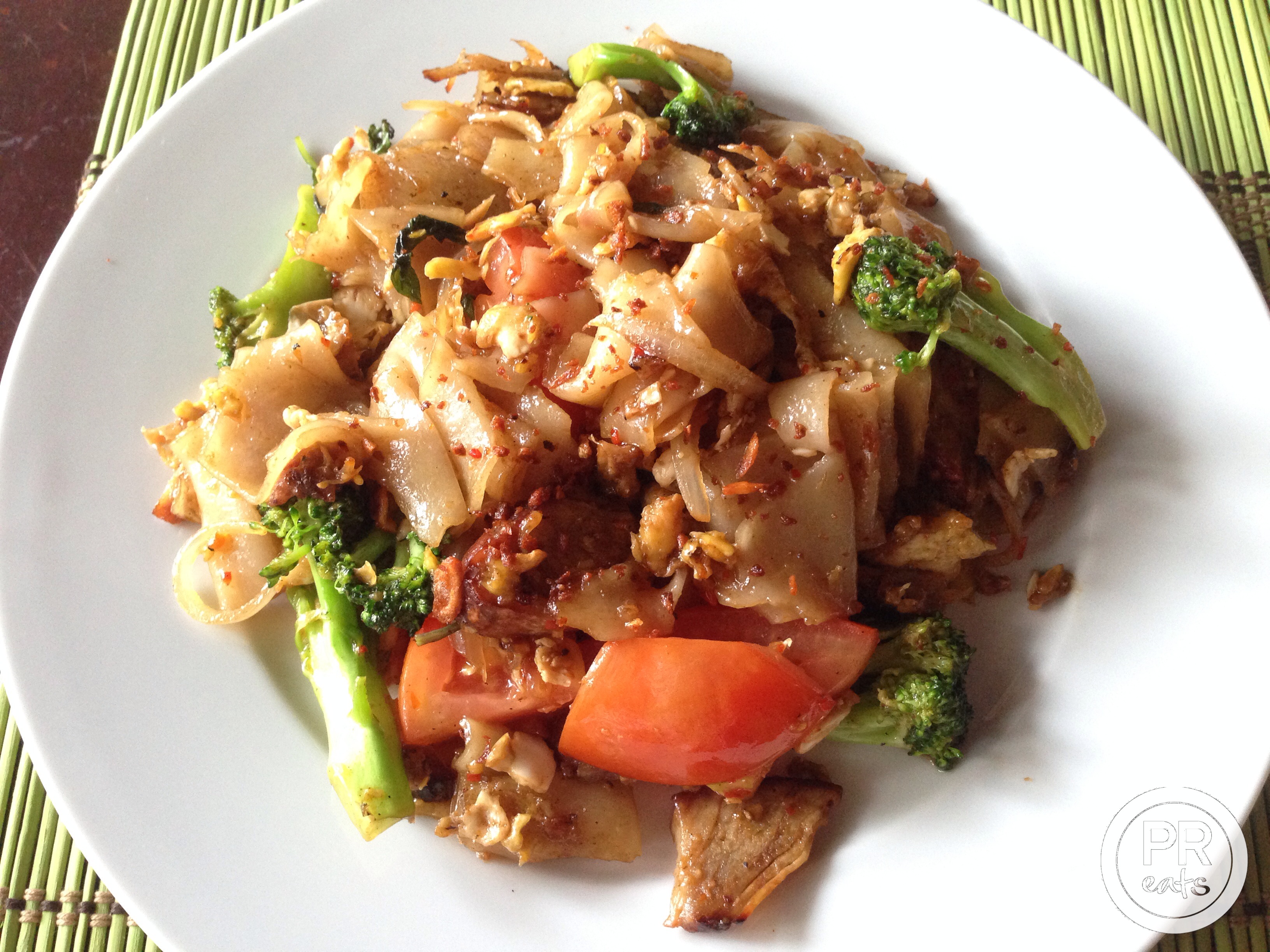 For dessert, we split the classic Thai dessert: Sticky Rice (Sweet Sticky Jasmine Rice served with Coconut Cream Sauce and Fresh Mango). In this dish you get to enjoy a nice mixture of the slightly salty coconut cream with the sweet mango in each heavenly scrumptious bite.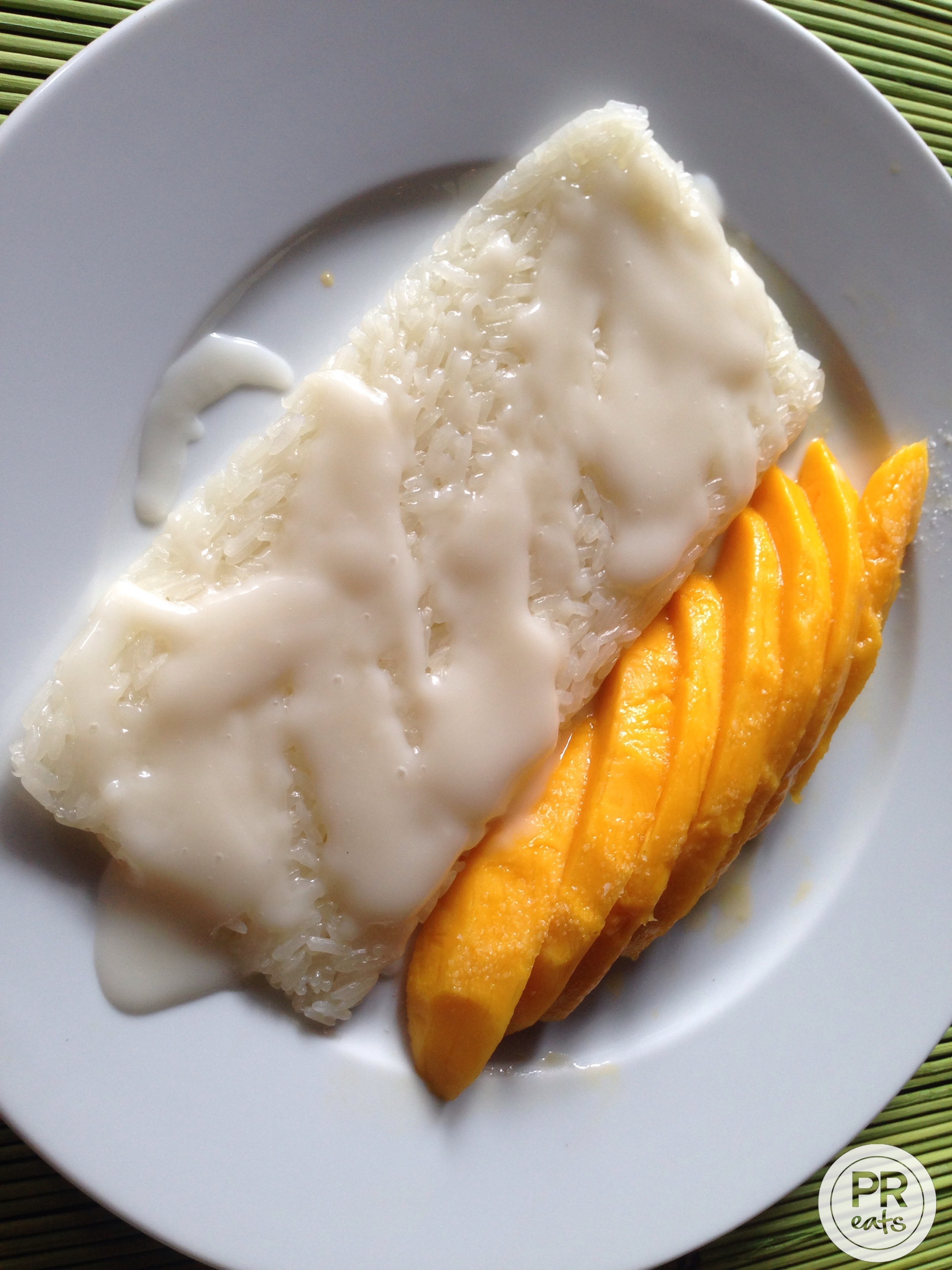 Every once in a while, the perfect dining experience crosses your path. In my case, it happened twice in the same week at Mai Pen Rai. Chef Kelly Pirro's attention to detail and devotion to ingredient integrity make the difference in every dish. Add the hard to beat prices ($8.00 to $11.00 dollars for appetizers and $12.00 to $16.00 main courses), the unobtrusive and obliging service, and you have yourself a marvelous dining experience that will keep you coming back for more. Disclaimer: The restaurant closes at 10:00 p.m., so keep that in mind when planning your evening.
[su_note note_color="#e5e4e2″ class="infobox1″]Location:
303 Canals Street, Santurce, Puerto Rico[su_gmap address="mai pen rai"]
Telephone: (787) 998-6338
Payment Methods: All major credit cards accepted

Parking: Paid parking lot available and if you are lucky, you can find parking in the adjacent streets.[/su_note]
---
---
You might also like
---