Located just a few blocks from the Sacred Heart University (Universidad de Sagrado Corazón) and the Tren Urbano is Tostado. The establishment can be best described as a modern take on the traditional bakery. On weekdays, they are open for breakfast and lunch and their menu features a variety of sandwiches made with a myriad of homemade breads such as: guava, coconut, pumpkin, taro, or nut with raisin. They also offer daily lunch specials that feature vegetarian options. On weekends, they have a brunch menu available for those looking to get their fix. After hearing great things about the brunch a Tostado, I gathered up a group of friends to go and check it out. The limited parking spaces at the front were taken, but we quickly found a parking spot in a nearby street.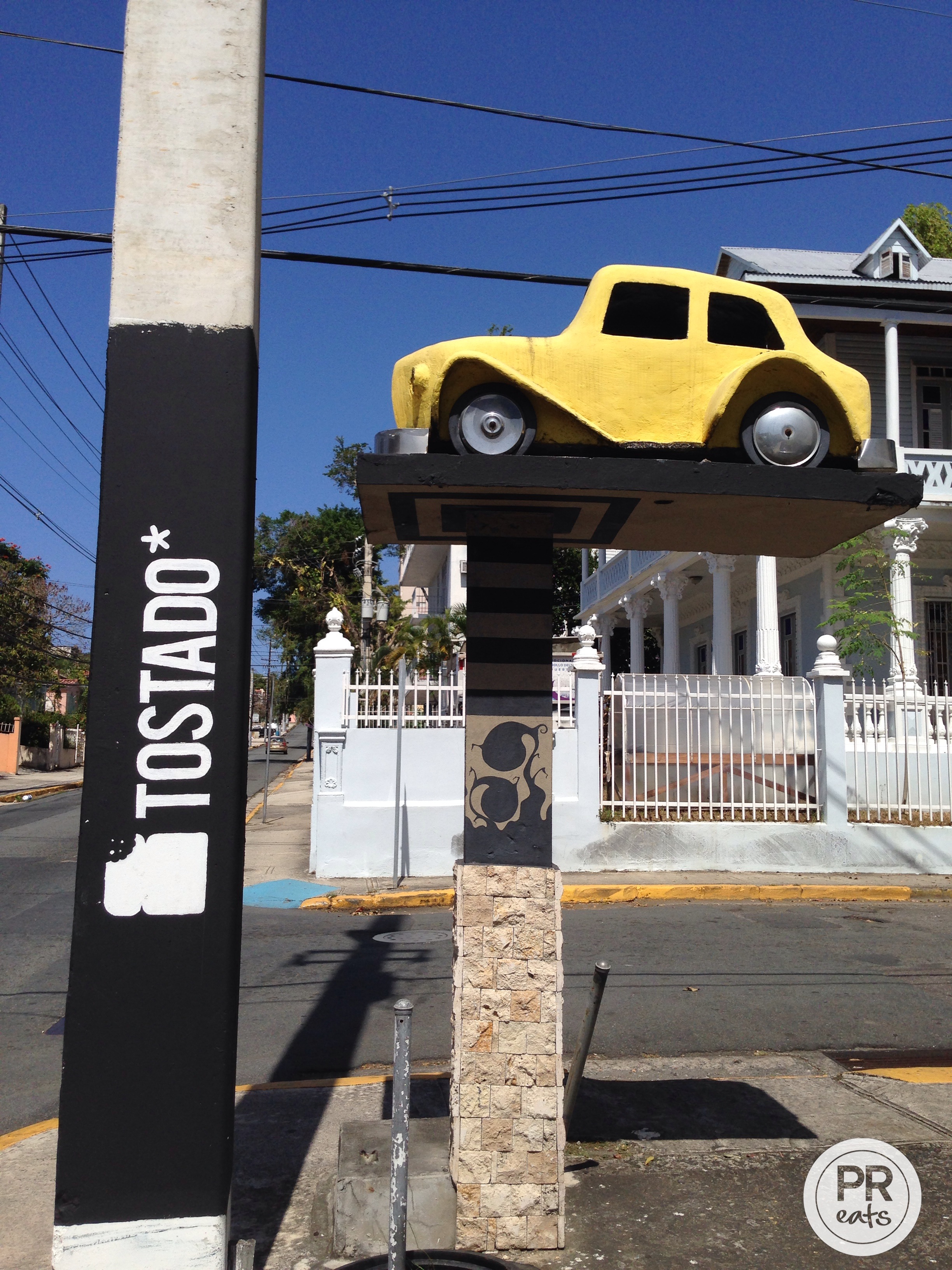 As soon as you enter Tostado you can feel the laid back atmosphere. The walls are decorated with paintings from young artists and the lamps are made from old floppy discs. The place was packed, but we ensured our table by making reservations the day before.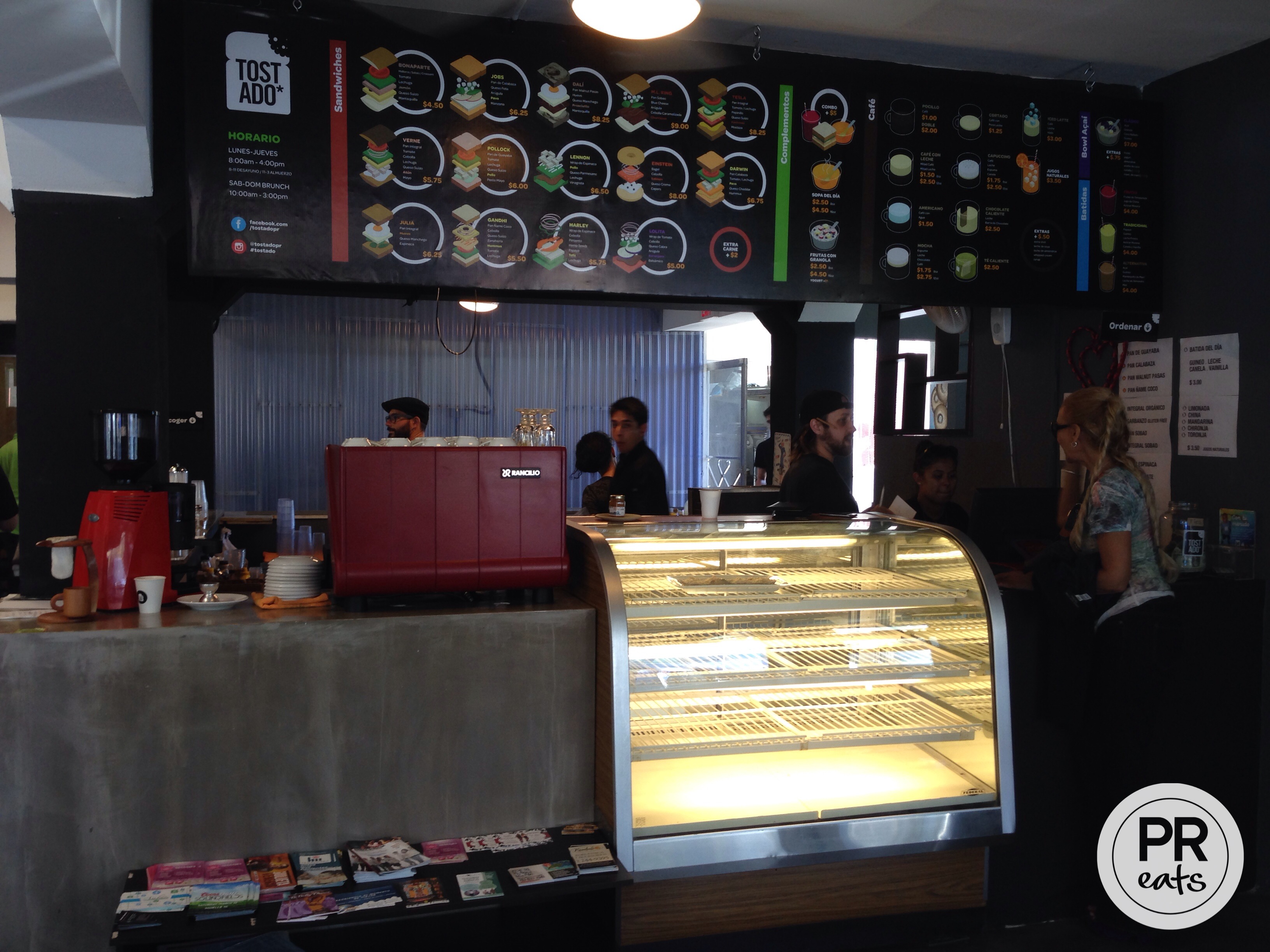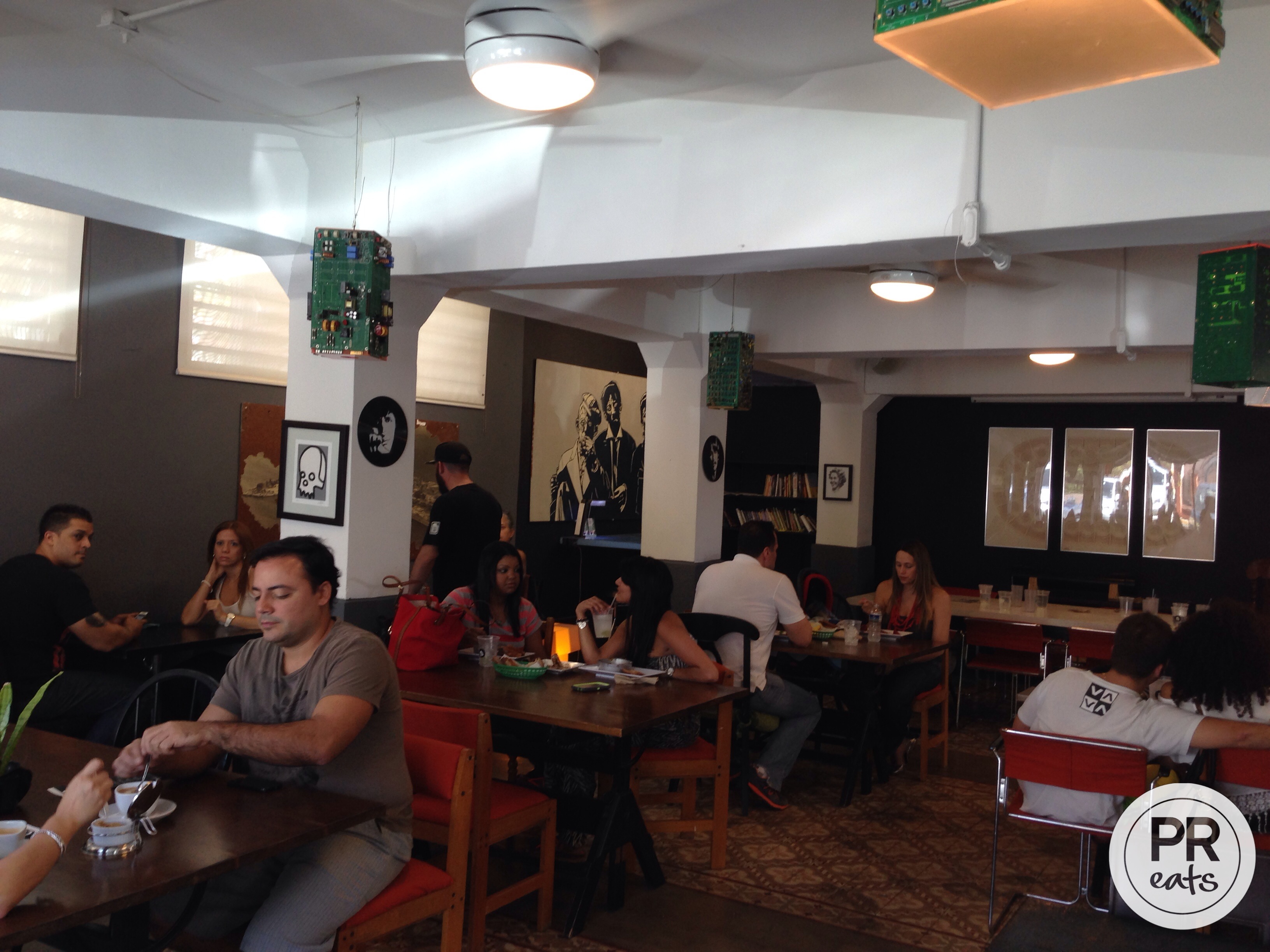 I was starving, so I ordered as an appetizer the French Toast Sticks made from Coconut and Taro bread, Nutella Syrup and topped with Whipped Cream. I have to confess that I am a fan of anything that has Nutella in it, so I knew this appetizer would be a hit. The french toast was nice and toasty and the Nutella provided a layer of sweetness and flavor that just kept you wanting more. This dish is a definite must have when visiting Tostado.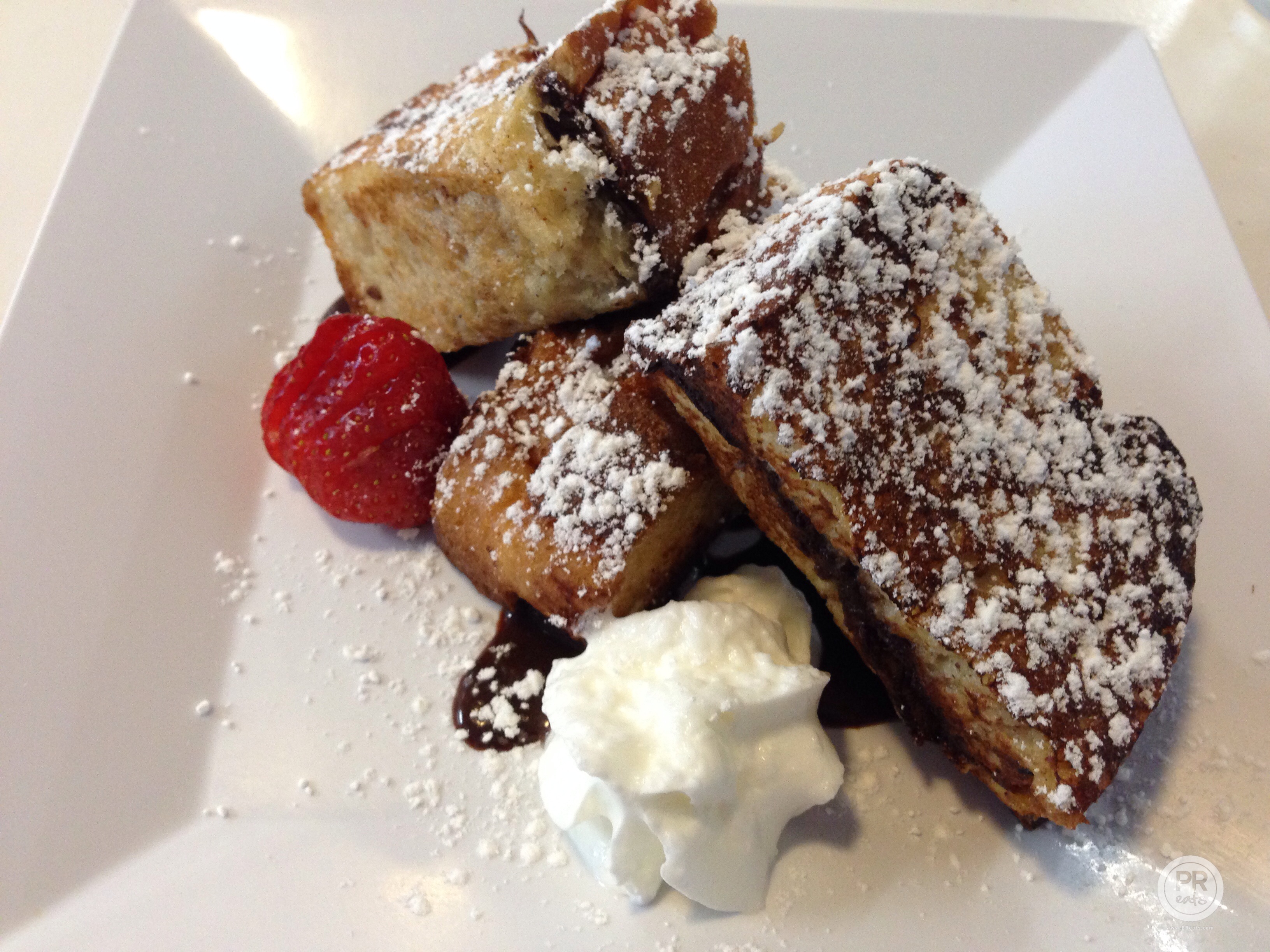 For our main dish, my husband Fernando and I both ordered the Breakfast Burger made with Organic Meat, Bacon, Lettuce, Tomato and Blue Cheese stuffed between two pillowy soft Mallorca buns with a side of Home Fries. For those of you not familiar with the heavenliness that is Mallorca, it can be best described as a sweet enriched buttery dough wound up into a round shape and dusted with a thick coating of powdered sugar. Mallorcas by itself are highly addictive and the quintessential Puerto Rican pastry commonly found in bakeries all around the island. Disclaimer: The dish also features a sunny side up egg, but this is a no-no for now since I am pregnant and not allowed to have my lovely runny yolks that I adore so much for the time being. Anyways, the burger was a hit! The combination of flavors was divine. The sweetness of the Mallorca buns combined with the salty blue cheese and bacon provided a full balanced flavor experience. The meat was beautifully cooked. Indeed, another must have when visiting Tostado.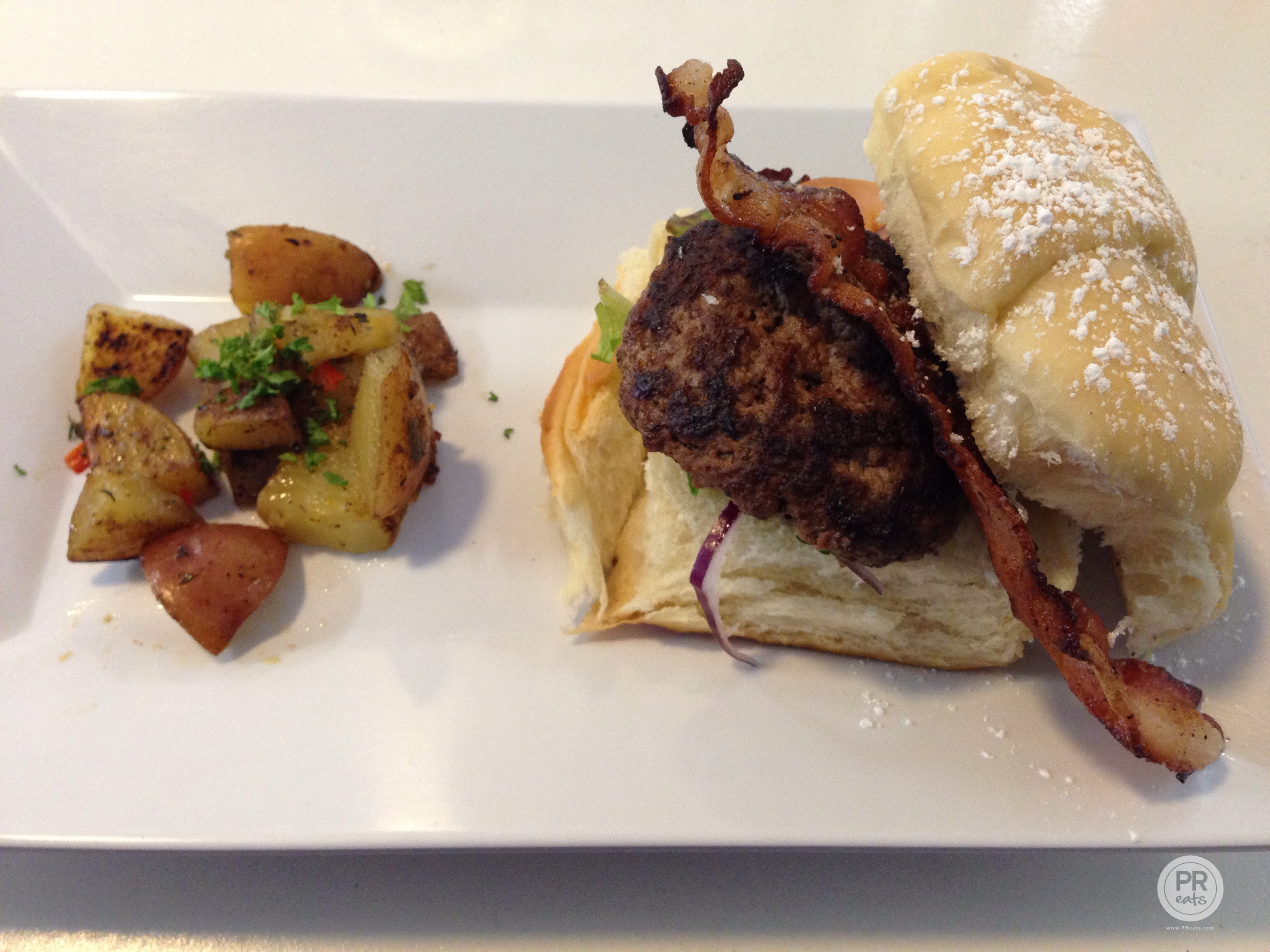 Our friend Georgie ordered the Almond Crusted French Toast made with Guava Bread, topped with Almonds, Strawberries, and a Nutella and Raspberry Syrup. The dish was simply delicious. The French Toast flavor was rich and satisfying with a bit of almond crunch for texture. In my opinion, this dish could have done without the Raspberry Syrup which was a bit overwhelming, since the Nutella syrup provided sufficient sweetness to the dish.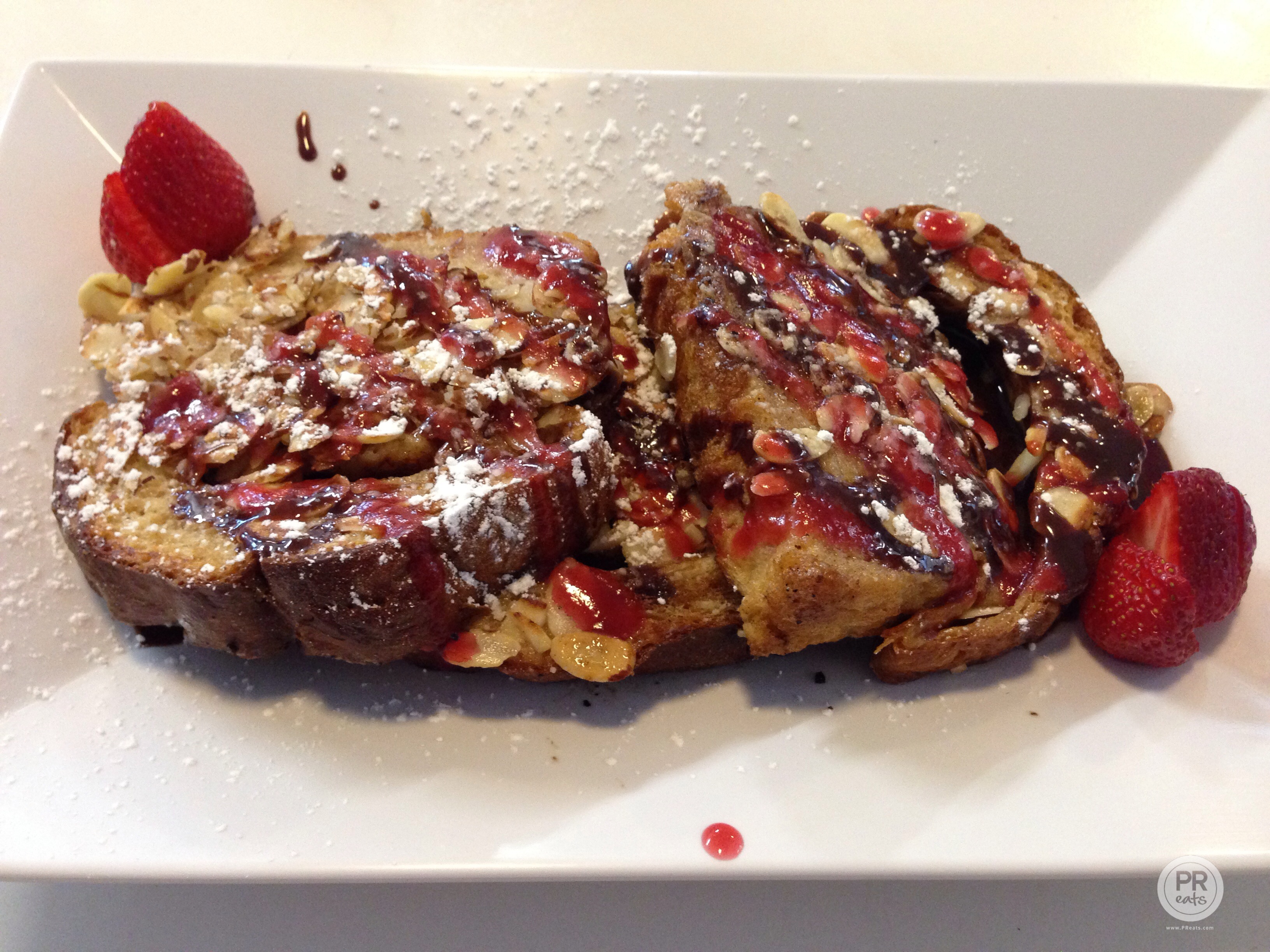 Natalie went with the traditional brunch item, the classic Eggs Benedict with a side of home fries. As you know from previous posts, I am very picky regarding my eggs benedict. But as I mentioned above, for the time being runny egg yolks are on my banned foods list, so I had to trust my friend's taste buds on this one. She gave the dish a thumbs up.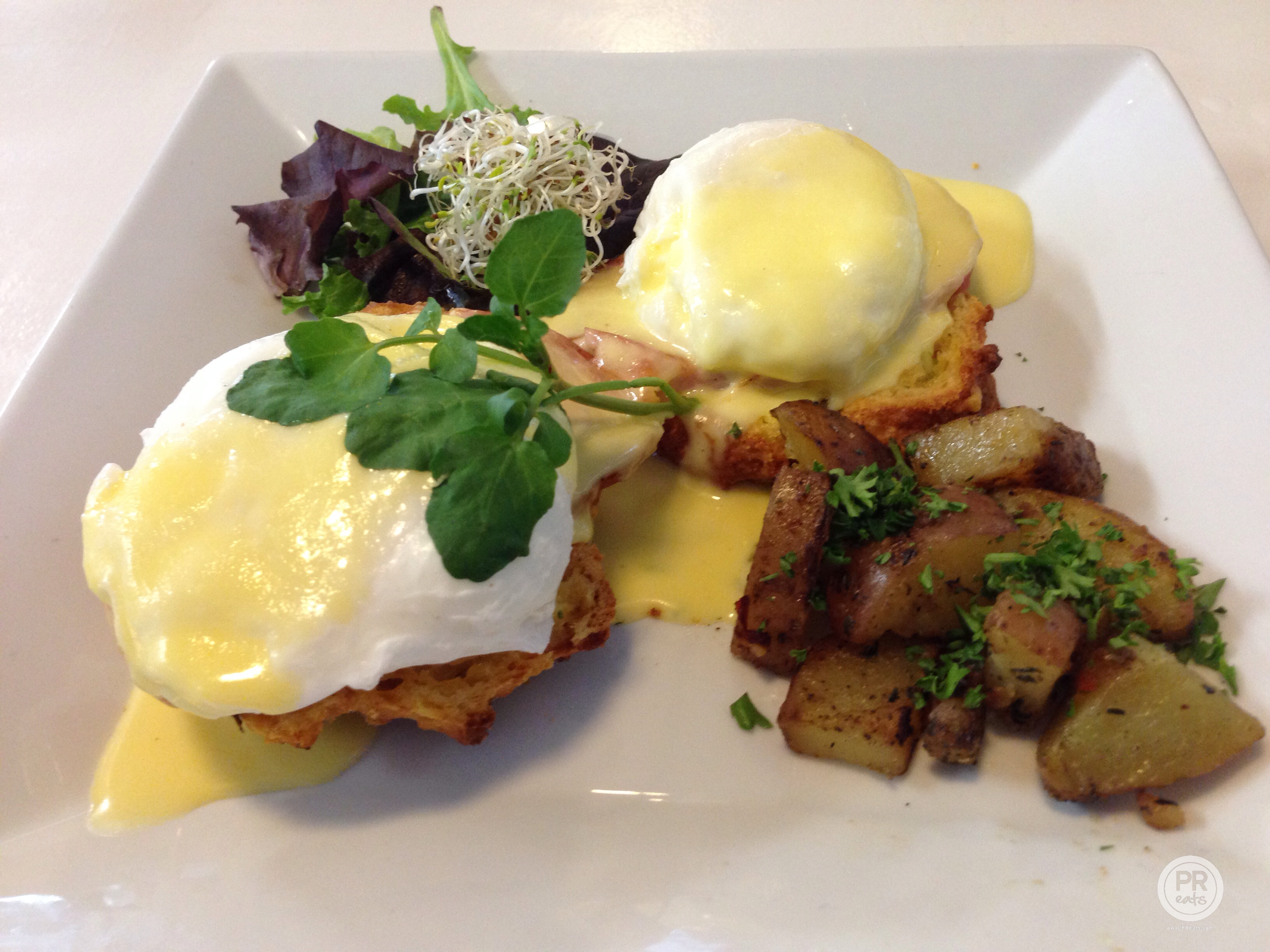 As our last dish, Juanchi went for one of the healthiest options on the menu and ordered the Fresh Fruit Multigrain Pancakes. They were good, but nothing out of this world.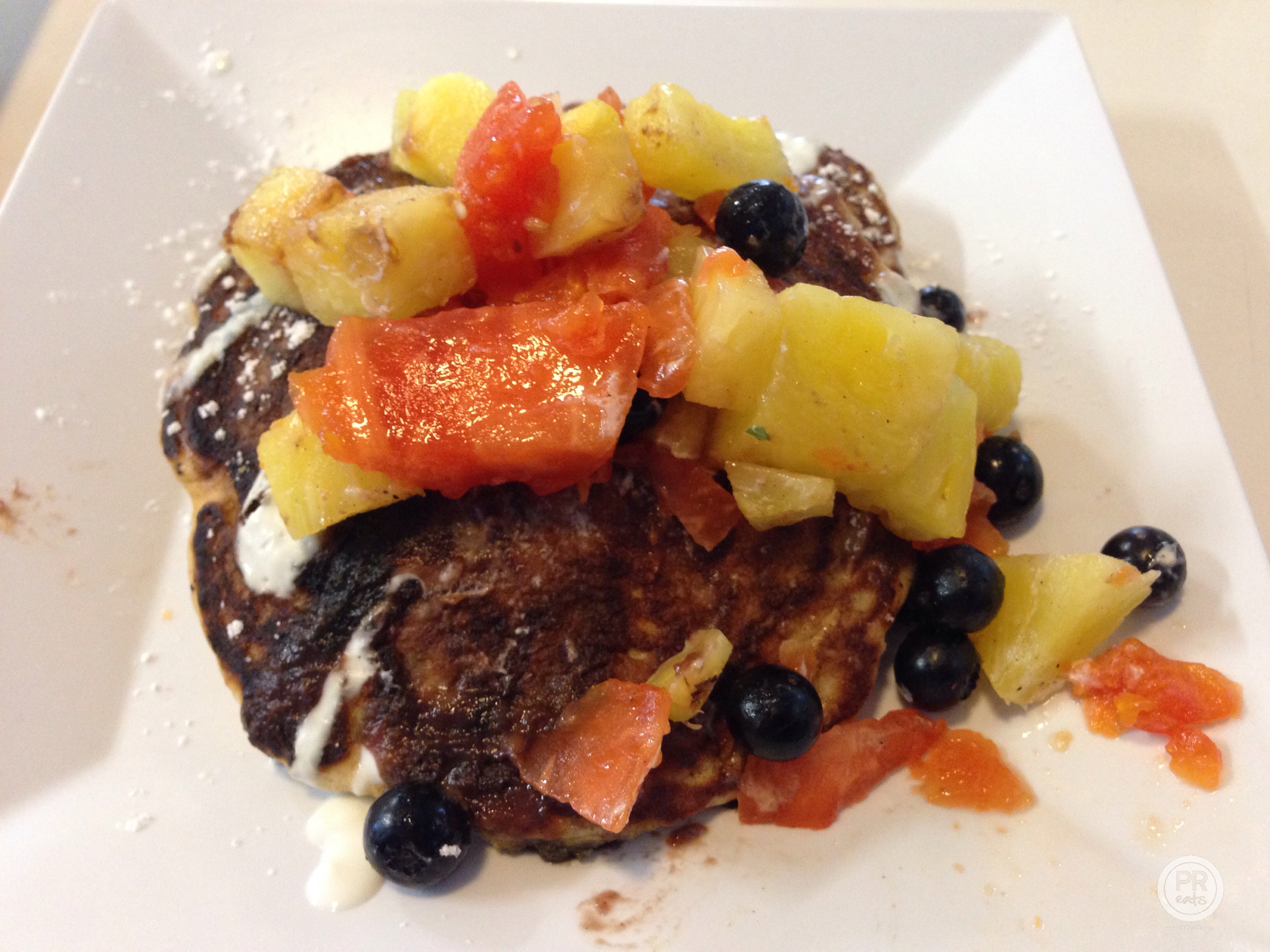 Overall, at Tostado you can expect high quality food made from fresh local ingredients, when possible, and decent sized portions. Prices range from $1.50 to $5.00 for entrees and $9.00 to $12.00 for main courses. Our only complaint was that even though the waiters were very friendly, the service was painfully slow, which took away from the enjoyable brunch experience that we had there.
UPDATE: As of March 2016, Tostado changed its location. This write-up reflects our experience at their previous location. Notwithstanding, the address featured on this post is the current one.
[su_note note_color="#e5e4e2″ class="infobox1″]Location: 610 Condado Street, Santurce, Puerto Rico.[su_gmap address="Tostado*, 610 Condado Street, Santurce, Puerto Rico"] Telephone: (787) 727-8005 (Reservations highly recommended for brunch)
Payment Methods: All major credit cards  

Parking: Limited parking available at the establishment. Plenty of parking on the adjacent streets.[/su_note]
---
---
You might also like
---