I have always been bothered by the fact that even though Puerto Rico is surrounded by beautiful beaches, only a handful of establishments take advantage of our marvelous ocean views. One of these establishments is La Copa Llena at the Black Eagle in Rincón.
La Copa Llena offers customers both indoor and outdoor seating. Although, I highly recommend seating in the large outdoor deck area where you can enjoy the light breeze and soothing sounds of the waves in the background as you enjoy your meal. We particularly enjoyed the great music at the restaurant which ranged from Kings of Leon (modern rock) to the Smiths (classic rock).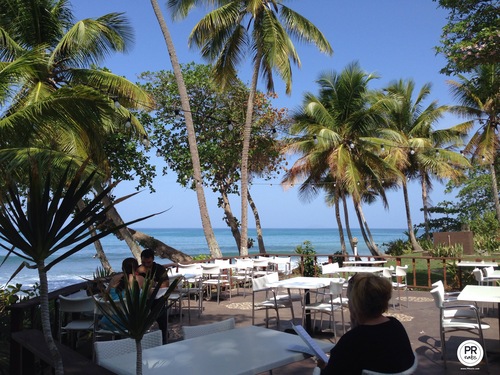 The menu had a bit of everything, from traditional brunch items such as French Toast to more adventurous courses like the duck fat fried Yukon potatoes, duck confit, onion, red pepper, sweet plantains (amarillos), cherry tomato, basil, poached egg and hollandaise dish.
I decided to order the Breakfast Burrito Enchilada Style (three eggs, house-made breakfast sausage, sautéed onions & peppers, and Pepper Jack cheese served Rancho Gordo Heirloom Beans, Spanish rice, yogurt and pico de gallo). The dish was phenomenal! As you know already, I love my food on the spicy side, so this just hit the spot. The only thing I could have done without is the beans; otherwise, it was perfect. A definite must have when visiting La Copa Llena.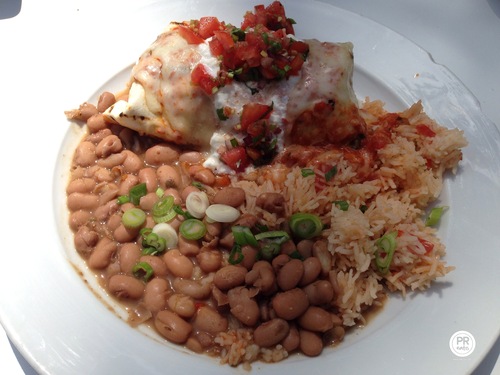 Fernando went with the Monte Cristo (a ham, Swiss cheese, and turkey triple-decker on levain artisan brioche dipped in cardamon batter and seared in butter, served with yogurt, blueberry preservatives, fresh fruit and green salad.) The sandwich is the perfect combination of sweet (the levain artisan brioche has a similar taste to French toast) and savory (the salty taste of the ham, Swiss cheese, and the turkey). The yogurt and blueberry preservatives were the perfect finishing touch to each bite. It was simply a tasty delight!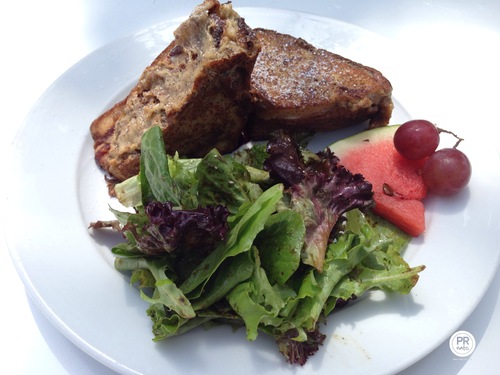 At La Copa Llena you can expect excellent service and moderately priced exquisite food (from $6.00 to $14.00). As their menu states, their juices are hand-squeezed, their coffee is fresh from the mountains of Adjuntas and brewed in French presses. Everything is made from scratch and local ingredients are used in the preparation of the dishes whenever possible and practical. They are open for dinner Tuesday to Sunday (5:00p.m. to 9:30p.m.) and brunch is only available on Sundays from 10:00am to 2:00pm. They are closed during the off-season from August 19 to November 5. Can't wait to visit them again for drinks and a sunset dinner!
[su_note note_color="#e5e4e2″ class="infobox1″]Location:
Road 413, Km. 1.0 (at the Black Eagle Marina off road, on the South
side of the Tres Palmas Marine Preserve), Rincón, Puerto Rico[su_gmap address="La Copa Llena at the Black Eagle"]
Telephone: (787) 823-0896
Payment Methods: All major credit cards accepted

Parking: Yes.[/su_note]
---
---
You might also like
---