Everybody in Puerto Rico has a favorite chinchorro. What is a chinchorro? It can be best described as a low-key hangout spot where the drinks are strong and cheap. To wash down the copious amounts of alcohol consumed at these establishments, many chinchorros serve food. Typically, the food consists of fried goodies such as alcapurrias (beef filled fritter), turnovers (empanadillas), among others. Some chinchorros serve more than just bar bites and offer staple Puerto Rican dishes at affordable prices. During my law school years, a friend of mine introduced me to what would become one of my favorite chinchorros in Puerto Rico: El Guayabo.
It might not look like much from the outside, but El Guayabo offers some of the best authentic local food in the metropolitan area. The family run establishment has no air conditioner, a handful of tables, and a small bar ideal for drinking on the sidewalk. They are open Tuesday through Friday for lunch. On Thursdays and Fridays they also open until late to cater to the happy hour crowd and serve dinner. The menu changes on daily basis. You can't miss it since it is written on a white board placed by the bar.
For the past seven years, El Guayabo has been one of my favorite spots to have lunch, dinner, or to simply meet up with friends for drinks. It just feels great to go to a place that feels like home and everybody knows your name. A few weeks ago, my co-workers and I decided to head there for lunch, mainly due to the fact that I had raved so much about the place. We got there around 11:50 a.m. just in time to beat the lunch crowd.
After being seated, I proceeded to order a round of alcapurrias for the group. They were delicious! We topped the alcapurrias with an avocado based spicy sauce that hit the spot. The mixture of flavors was fantastic.
For my main course, I ordered pork chops with rice and beans and a side of fried plantains.  Can you say heart attack on a plate? Yes please. The pork chops were flavorful, tender and juicy. Don't even get me started on the amazing rice and beans. They are the closest thing to the ones my grandma makes.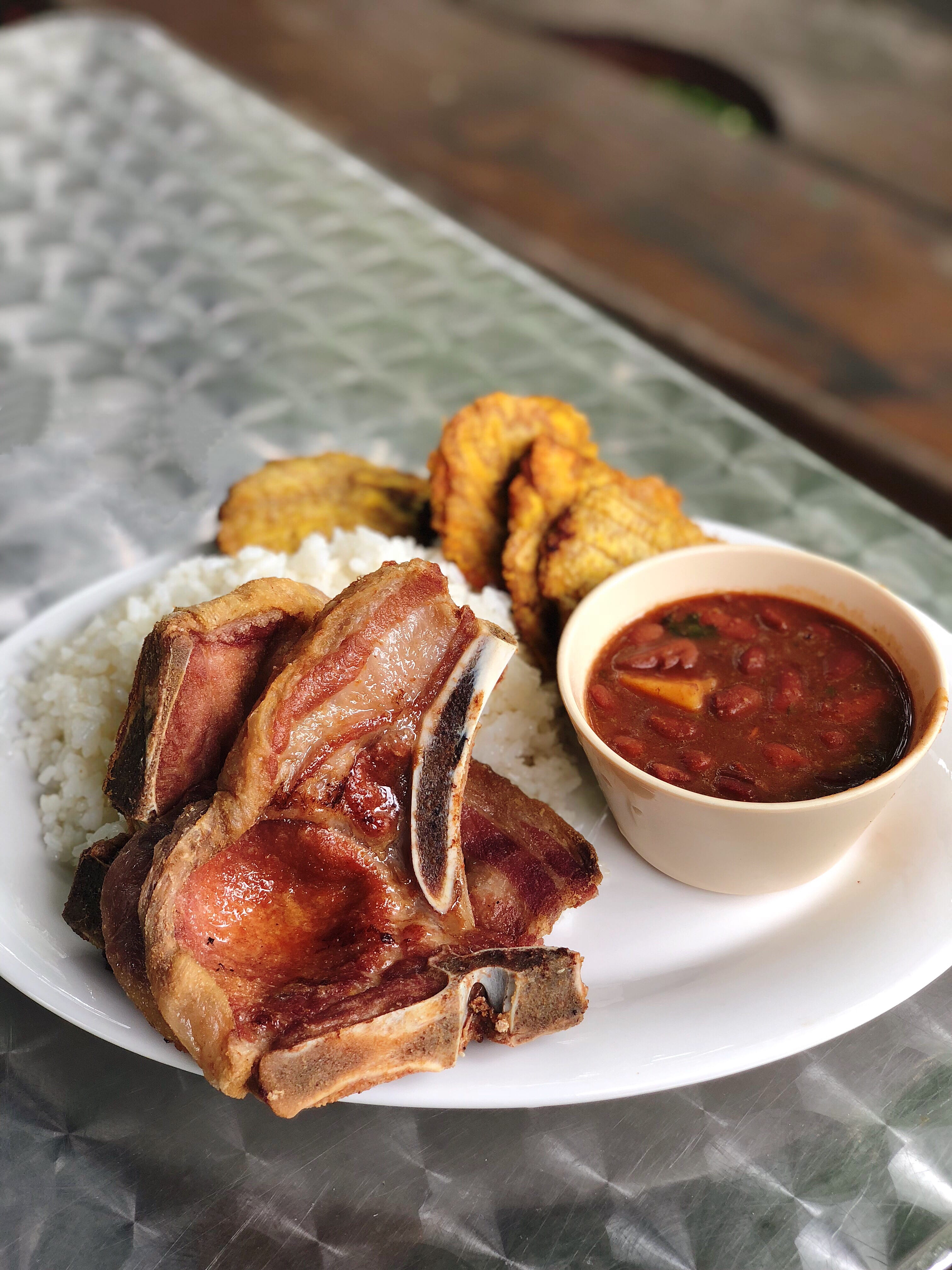 As our second dish, we ordered the carne frita with a side of malanga and ñame (root vegetables). The delectable carne frita was topped with sautéed onions. Slightly crispy on the outside but tender on the inside, the taste was pure perfection.
As our final dish, we had the empanada de res (breaded beefsteak) with a side of rice, pig's feet and garbanzo stew, and fried plantains. The meat was perfectly cooked and the breading was crispy and packed with flavor.
At El Guayabo you can expect amazing homemade dishes, good service, and a friendly atmosphere. Come for lunch, dinner, or drinks, you can't go wrong! I promise you won't regret it.
[su_note note_color="#e5e4e2″ class="infobox1″]Location:
29 Colton Street, Guaynabo, Puerto Rico[su_gmap address="El Guayabo, 29 Colton Street, Guaynabo, Puerto Rico"]
Telephone: (787) 790-8740
Payment Methods: All major credit cards accepted

Parking: There is parking available on the adjacent streets.[/su_note]
---
Alcapurrias
,
Chinchorro
,
Chuletas
,
El Guayabo
,
foodie
,
Fried Plantains
,
Guaynabo
,
Patitas de Cerdo con Garbanzo
,
Pork Chops
,
Puerto Rico
,
Restaurants
,
Tostones
,
Where to Eat in Puerto Rico
---
You might also like
---