I can still remember vividly my first visit to the Argentinian pizzeria El Conde. My friend Laura, who lived just a few footsteps away from the restaurant had been raving about their pizza for months. Finally, one day after a long beach day, we decided to head there for pizza and a few beers. Before arriving, I can still remember Laura's warning, "be careful, Irene can be hard pill to swallow sometimes." I quickly asked who Irene was and Laura responded "she is one of the owners and the only server of the restaurant." Curious about this warning, I asked "is she like the soup nazi in Seinfeld?" Laura laughed and nodded and told me the story about Irene's reaction the time a friend of hers tried to order an extra ingredient on her pizza. Friendly warning: do not try to add any additional ingredients to your pizza. I thought to myself, "hey, if its good pizza I will gladly take the abuse."
El Conde is located on the second floor of the surf shop Vela Uno. If you are not looking hard enough you just might miss it since a small sign hanging from the top of the stairs is the only thing identifying the restaurant. Irene and her husband, both Argentinian are the owners of the restaurant. Irene serves the customer while her husband makes the pizza.
Coming up the stairs of El Conde, I got my first glimpse of Irene. She was an average height thin middle-aged woman with short hair. She was smoking a cigarette right next to the stairs. After Laura and I sat down, Irene finished her cigarette and approached our table. She did not smile or welcome us to the restaurant; she just gave us the menu and asked us for our drink order. The menu is pretty straightforward. As appetizers you can get empanadas or eggplant with olive oil.  Aside from their wide variety of thin crust pizzas, El Conde also offers steak or chicken milanesas (breaded fried steak or chicken) with a side of fries. For drinks, aside from water or soda, you can get Quilmes (Argentinian Beer), Sangria, or Alamos Malbec (Argentinian wine). They offer both indoor and outdoor seating.
We ordered the large pizza (8 pieces) that consists of tomato sauce, mozzarella cheese, and pesto sauce. As soon as I took a bite of that pizza, I never looked back. El Conde quickly became one of my favorite pizza places in Puerto Rico and for the last five years, it has been one of my go-to places for pizza.
A few weeks ago, my husband Fernando and I were craving El Conde so after work we decided to get our fix. I will never forget that night since for the first time in five years Fernando managed to make Irene laugh! (SCORE!) Being regulars of El Conde she had been slowly but surely warming up to us. However, the turning point was when, a few years back, Fernando mentioned his undying love of Buenos Aires, from that moment on, she was very nice to us and sometimes even treated us with a smile (WIN!).
After making Irene laugh, we toasted the accomplishment with a few ice-cold Quilmes beers. We then proceeded to order the onion and cheese empanadas as our appetizer. I am addicted to this simple yet irresistible dish. The combination of the salty melted cheese, the sweet onions and the flaky crust just keeps me coming back for more. The serving size is two empanadas per order, so if you want more, make sure to keep that in mind. They are a must have when visiting El Conde.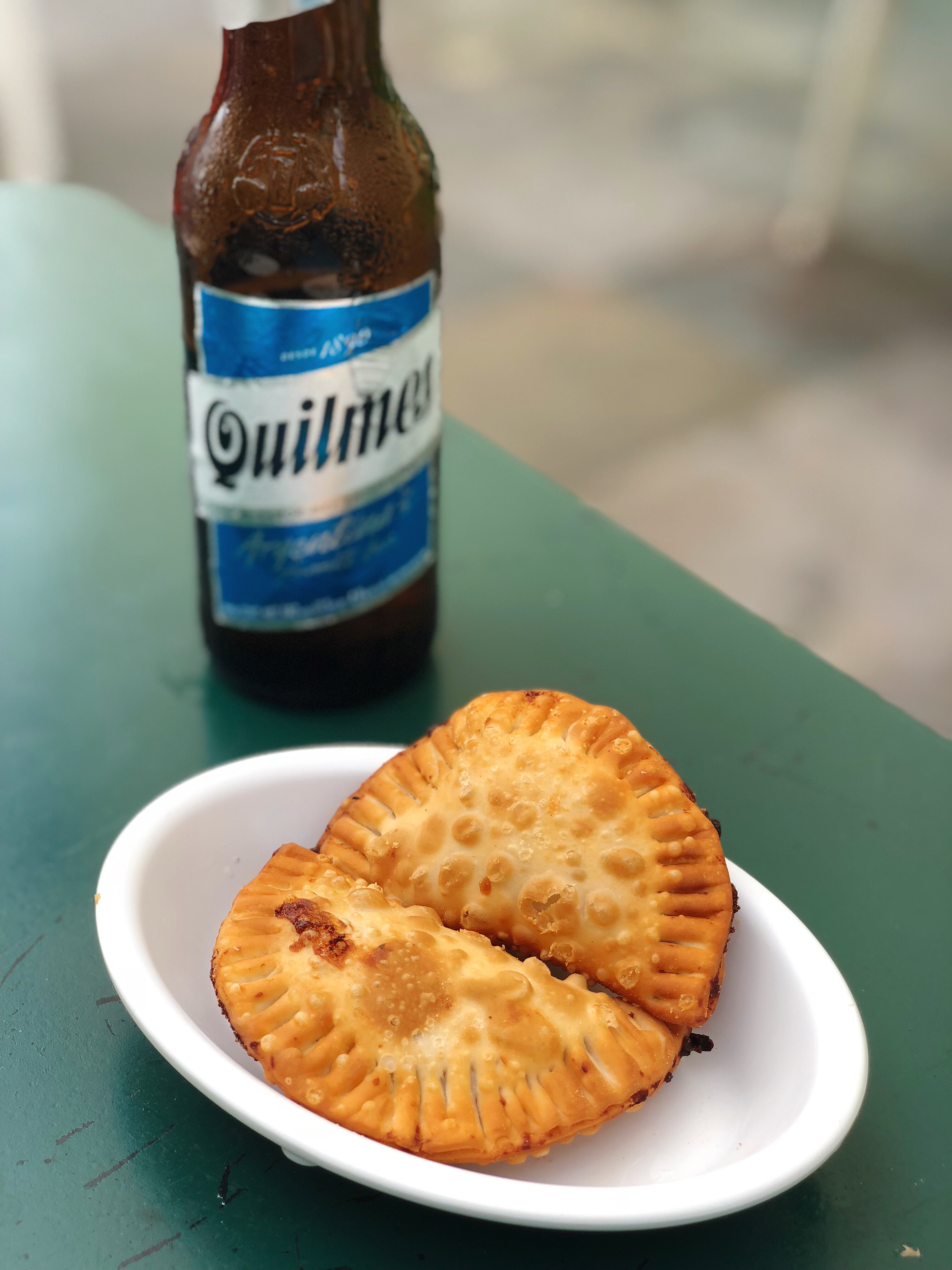 It was now time for the main event. We had a hard time deciding on which pizza to order since they have an enticing variety that makes it hard to choose. We decided to go with two of our personal favorites, the Fugazetta (mozzarella, onions, oregano, and olive oil) and the Napolitana (tomato sauce, mozzarella cheese, and garlic).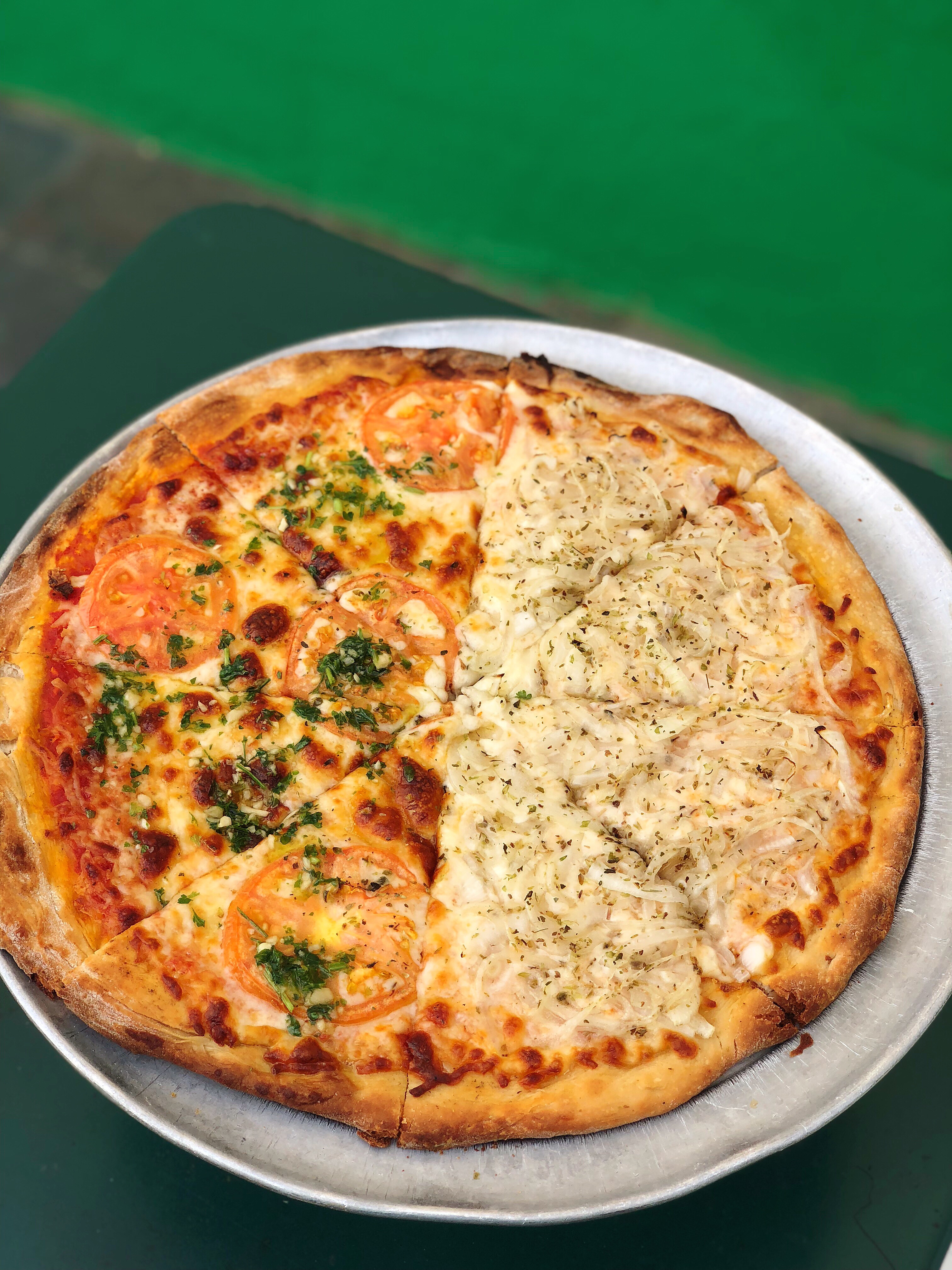 The Fugazetta was simply divine. The crispy thin crust, the melted cheese and the perfectly cooked onions were a party in my mouth (NOM NOM). The Napolitana was spectacular. It is your basic pizza, but it is topped with a touch of garlic that gives each bite the perfect kick of flavor.
Overall, El Conde is an experience. While you wait for your meal, memorabilia from The Beatles to Buenos Aires will surround you. It's the perfect place to visit after the beach or to have a relaxed night out. You can also call ahead and have them prepare your pizza to carry out. The best part, is that once you visit El Conde often enough, you find out that Irene is a sweetheart. Their pizzas are delicious, so do not miss out, and pay them a visit soon. You won't regret it!
[su_note note_color="#e5e4e2″ class="infobox1″]Location:
-2432, 2428 Calle Loíza, San Juan, 00913, Puerto Rico[su_gmap address="Piazza El Conde Restaurant"]
Telephone: (787) 727-556
Payment Methods: All major credit cards accepted

Parking: Yes[/su_note]
---
Argentinian Pizzeria
,
Calle Loiza
,
Empanadas de Cebolla y Queso
,
foodie
,
Fugazetta
,
Margarita
,
Pizza
,
Puerto Rico
,
Punta las Marias
,
Quilmes
,
Restaurants
,
Where to Eat in Puerto Rico
---
You might also like
---