Located in an unassuming white house on Mendez Vigo Street, away from the tourist areas and the big name hotels, you will find one of my favorite Italian restaurants in Puerto Rico: Grappa.
Cozy and charming, Grappa offers a limited yet varied menu, as well as, creative daily specials to please every palate. The food is artfully prepared and the pastas, sauces and breads are homemade (YES!).
Last Thursday, I was in the mood to get my monthly Grappa fix, so I called the restaurant to try and get last minute reservations (the place gets full fast so always make sure you have reservations prior to your visit). We were in luck since we got the last table available (BOOM!). After arriving, our server Reinaldo quickly approached our table. He was not only friendly but very knowledgeable about the whole menu, particularly the daily specials and the wine selection. We were in the mood for a smooth white wine so we ordered one of my favorites: Paco y Lola.
After pondering our options, we decided to order as our appetizer the Arancini (rice balls coated in bread crumbs), which is one of our must haves each time we visit Grappa. They were moist, gooey and cheesy on the inside, perfectly crispy on the outside, sitting on a bed of a delicious homemade sauce. I am craving them right now just by writing this. YUMMY! Insiders tip: Since the appetizers tend to come in small portions I would suggest that you order more than one if you are in a group or just really hungry.
After our appetizer, our server Reinaldo was kind enough to offer us a complementary taste of one of the wines on their list. We tried the Santa Sofia Valpolicella 2009 and loved it! He was kind enough to offer a little insight into the background of the wine and also recommended the Santa Sofia Amarone 2007 as a wine we could enjoy on our next visit.
For my main course, I ordered the Fra Diavolo Di Gamberi. It consists of homemade short pasta with shrimp, prosciutto, fresh tomatoes, basil and arabiatta sauce. It was scrumptious! The pasta was exceptional with just the right consistency. The arabiatta sauce was flavorful and had the perfect kick of heat. The best part was that the shrimp was not overcooked (a common mistake in many restaurants) since when it is, the shrimp gets a nasty rubbery texture and looses a lot of its natural flavor.
Fernando ordered one of the dinner specials: the classic carbonara (NO CREAM!) prepared with eggs, Guanciale, Pecorino cheese and pepper. NOM NOM.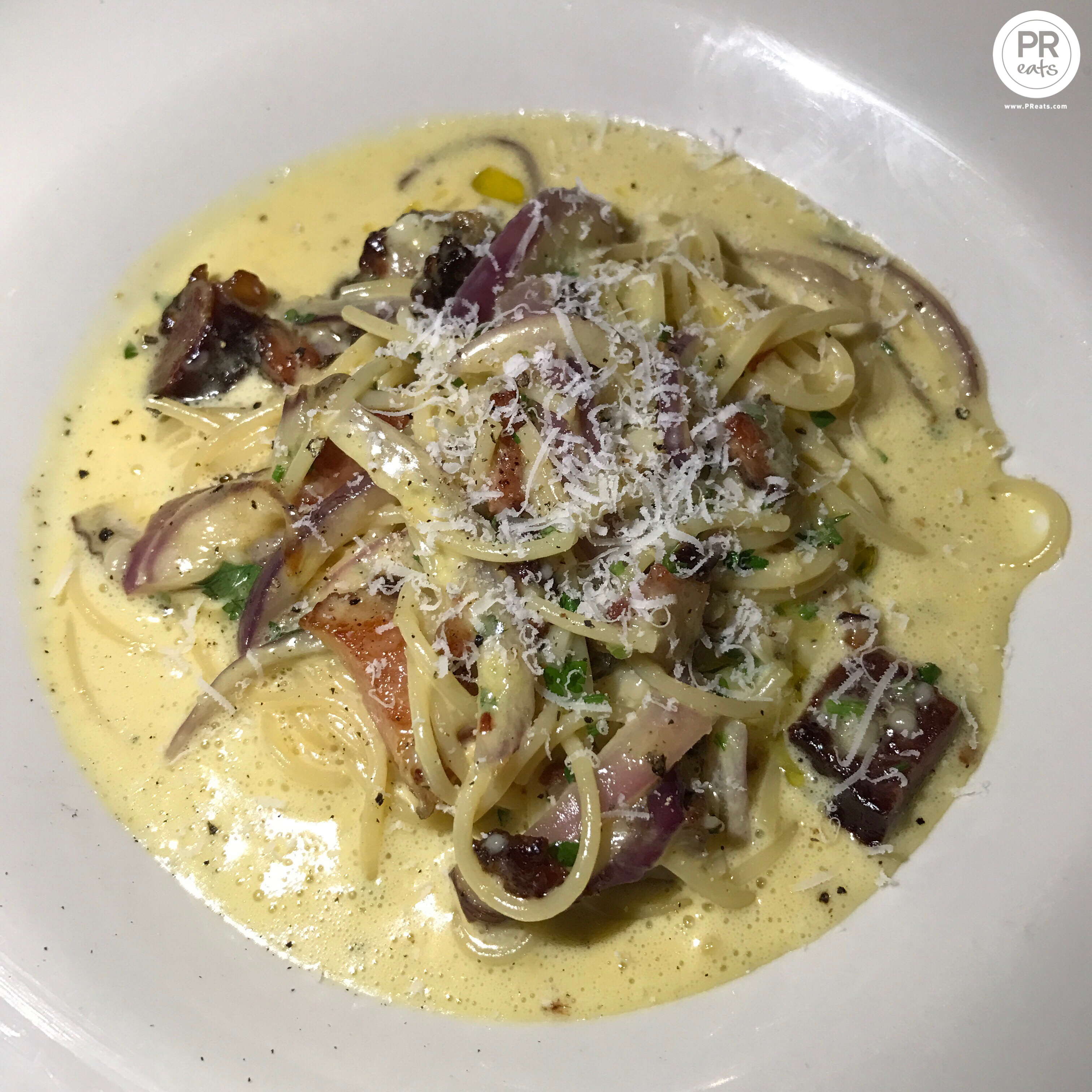 At Grappa, you will find innovative cuisine, top-notch service, and reasonably priced high quality food. What more can you ask for! Reservations are highly recommended since there is limited seating available. So next time you are in Dorado, make sure to stop by Grappa. I know I will!
[su_note note_color="#e5e4e2″ class="infobox1″]Location:
Mendez Vigo St. 247, Dorado, Puerto Rico[su_gmap address="Grappa Ristorante, Mendez Vigo St. 247, Dorado, Puerto Rico"]Suchville Gallery, Guaynabo, Puerto Rico[/su_gmap]
Telephone: (787) 796-2674
Payment Methods: Major credit cards accepted

Parking: Parking on the street available.[/su_note]
---
arabiatta
,
Arancini
,
Dorado
,
foodie
,
Grappa Ristorante
,
homemade
,
Italian
,
Pasta
,
Puerto Rico
,
Restaurants
,
risotto
,
Where to Eat in Puerto Rico
---
You might also like
---