The internationally-renowned Southern Brazilian Steakhouse, Fogo de Chão, opens its first location in Puerto Rico next Monday, February 9, 2015. The restaurant, which offers upscale Churrasco cuisine, is located at Paseo Caribe in Condado, San Juan's up-and-coming premiere location for dining, living, and nightlife.
"We are excited to celebrate our first Caribbean location in the heart of Condado and to join the community at Paseo Caribe and the city of San Juan, Puerto Rico," says Fogo de Chão Chief Executive Officer Larry Johnson. "Like Brazil, San Juan is home to some of the best food in the world. We are looking forward to introducing our authentic Southern Brazilian Steakhouse experience and the culinary traditions that we've brought with us from Brazil to San Juan," he adds.
The Fogo de Chão dining experience is based on churrasco, a centuries-old gaucho tradition that practices the art of roasting meats over an open fire and sharing dining experiences with family and friends. The menu features a wealth of savory fire-roasted meats, specially prepared and carved to each guest's preference by a team of authentic Brazilian-trained gaucho chefs, led by Head Gaucho Chef Marcio Holdefer.  Guests have full control over the pace and portions of their meal as they signal the chefs with a small double-sided disc.  On one side, the color green alerts the chefs to continue delivering a selection of meats.  On the other side, the color red is their cue to hold until the guest indicates they are hungry for more.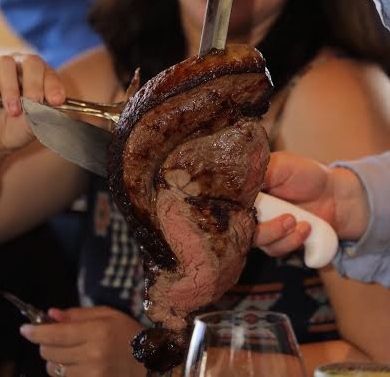 Highlights include Picanha, a Brazilian specialty cut from the prime part of the sirloin and seasoned with sea salt or garlic; Cordeiro, fresh  lamb flavored with a special mint marinade, sliced off the bone or served as tender chops; and Fraldinha, a cut from the bottom sirloin cut that is one of the most distinctive and flavorful cuts of  beef from Southern Brazil. The restaurant also features Fogo's signature Market Table, offering the freshest fruits and vegetables, seasonal salads, smoked salmon, and imported meats and cheeses at a charcuterie station. Every table is greeted with Pão de Queijo – a warm (gluten-free) cheese bread, Roasted Potatoes, Crispy Hot Polenta, and Caramelized Bananas.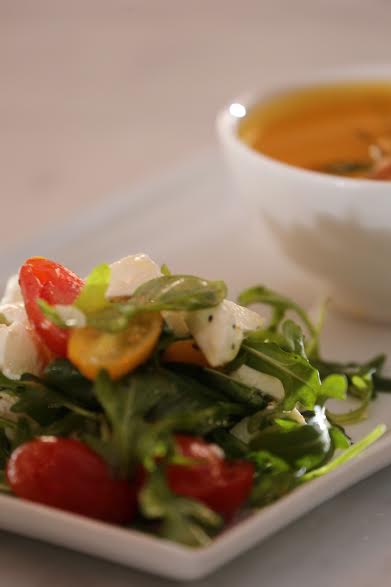 The menu is complemented by an award-winning 200 label wine list featuring selections from around the globe, including Malbec and Carmenère varietals from South America,  and Chardonnay, Cabernet Sauvignon, and Pinot Noir from the Napa  and Sonoma Valleys in California. The restaurant also boasts a South American-inspired cocktail program, including many traditional drinks from Brazil, such as the Caipirinha, as well as a selection of Brazilian and domestic beers, premium liquors, after-dinner drinks and non-alcoholic beverages. The dessert menu features indulgences such as Fogo de Chão Signature Papaya Cream, Key Lime Pie, and Molten Chocolate Cake.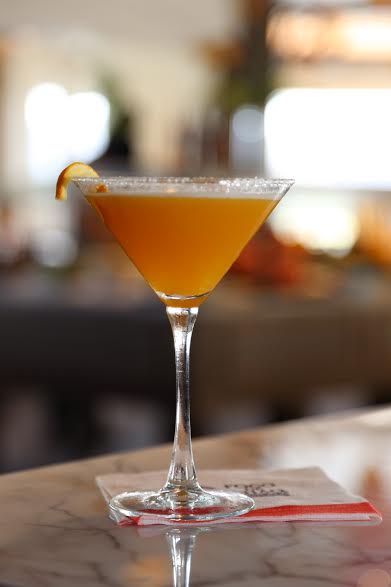 Located just steps away from the Caribe Hilton, the restaurant features an expansive outdoor patio and a lively bar with breathtaking views of the city, the Atlantic Ocean and the Condado Lagoon. Fogo de Chão also provides three semi-private dining areas that can be combined to make larger rooms, seating from 10 to  80.
Hours of operation and pricing are as follows:
Lunch – beginning Monday, February 9th 
$28.50 | ( Market Table Only – $15.00)
Monday through Friday 11:30 a.m. – 2:30 p.m.
Dinner – beginning Thursday, February 12
$48.50 | (Salad Bar Market Table Only – $22.50)
Monday through Thursday 5:00-10:00 p.m.
Friday and Saturday 5:00-10:30 p.m.
Sunday  3:30-9:00 p.m.
Children 6 and under are complimentary. Children 7 to 12 are half price.  Any beverages, desserts, tax, and gratuity are additional.  An 18% gratuity is added to all parties of 6 or more.
For more information, please visit www.fogo.com or visit their Facebook page.
[su_note note_color="#e5e4e2″ class="infobox1″]Location:
15 Muñoz Rivera Avenue, Paseo Caribe, San Juan, Puerto Rico[su_gmap address="Fogo de Chao puerto rico"]Suchville Gallery, Guaynabo, Puerto Rico[/su_gmap]
Telephone: (787) 727-5100
Payment Methods: All major credit cards accepted.

Parking: Valet Parking.[/su_note]
---
---
You might also like
---