The largest Sangría tasting event in the world as recognized by the Guinness Book of World Records, the Sangría Fest, is coming back for its 8th edition. This time, with the participation of the most famous and sought after food trucks as an extension of its ample and varied offer which consists of over 30 different restaurants from all over the island and the participation of all the commercial brands of Sangría registered in Puerto Rico such as Los Hermanos, La Lola, Sangre Boricua, Borges, just to name a few.
"We identified an opportunity with the integration of the food trucks to continue offering the public a varied and different event. The service provided by the food trucks has been well received by people in recent years and has become a part of Puerto Rican culture. Our goal is to help these small businesses exhibit their services in an event of like the Sangria Fest and for the public to enjoy these new options," said Reggie Ortiz, 7.29 Events, producer of the event.
The foodtrucks will be joining some of the most renowned restaurants in the island such as Texas de Brazil, Tijuana's, Casa Lola, Puttanesca, Blue Martini, Soda, Herbs Nouvelle Caribbean Cuisine, La Gota de Rojas, Frida's, among others, that will offer the public their culinary offerings of the highest standard, as well as, get an opportunity to sample its sangrias. Furthermore, the event will feature live music all night with a variety of styles to suit every taste.
Marissa Gasparoli, co-producer of the event, stated that this year, for the first time, they have joined forces with Iniciativa Comunitaria, led by Dr. José A. Vargas Vidot and his team, which works with the community in its development and transformation.
"In its past editions, the Sangría Fest has been a platform that has contributed to various charities on the island with over $40,000. This year we wanted to expand our support to a new entity and are very excited to join forces for the first time with Iniciativa Comunicatira who, through Dr. Vargas Vidot, has made a radical social change in the island," added Gasparoli.
The 8th Edition of the Sangria Fest will be held on Saturday March 7, 2015 from 6:00pm to 12:00 p.m. at the Puerto Rico Convention Center. Tickets can be purchased at TicketCenter (www.tcpr.com) or by calling (787) 902-5252.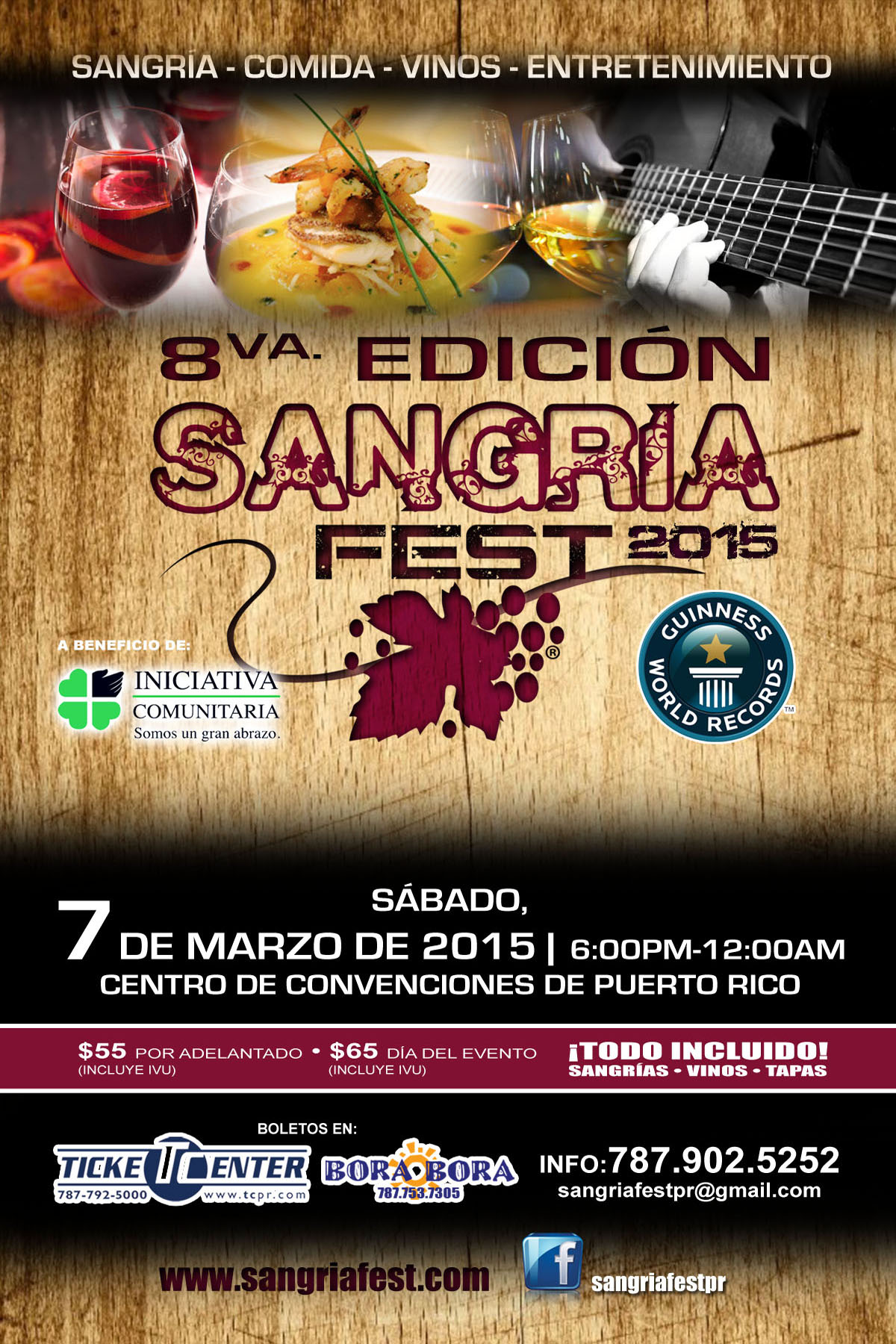 ---
---
You might also like
---