If you are anything like me, you enjoy indulging in the occasional after work cocktail with friends or work colleagues. Since all those cocktails can make a girl hungry, I try to look for places that offer a good bar menu. One restaurant serving up exceptional drinks and awesome bar chow is Gallo Negro. From this week forward, available Wednesday through Friday from 6:00 p.m. to 8:00 p.m. the restaurant will be offering at the bar a delicious 99 cent menu ideal for pairing with their varied cocktail offerings. You read correctly, 99 cents people!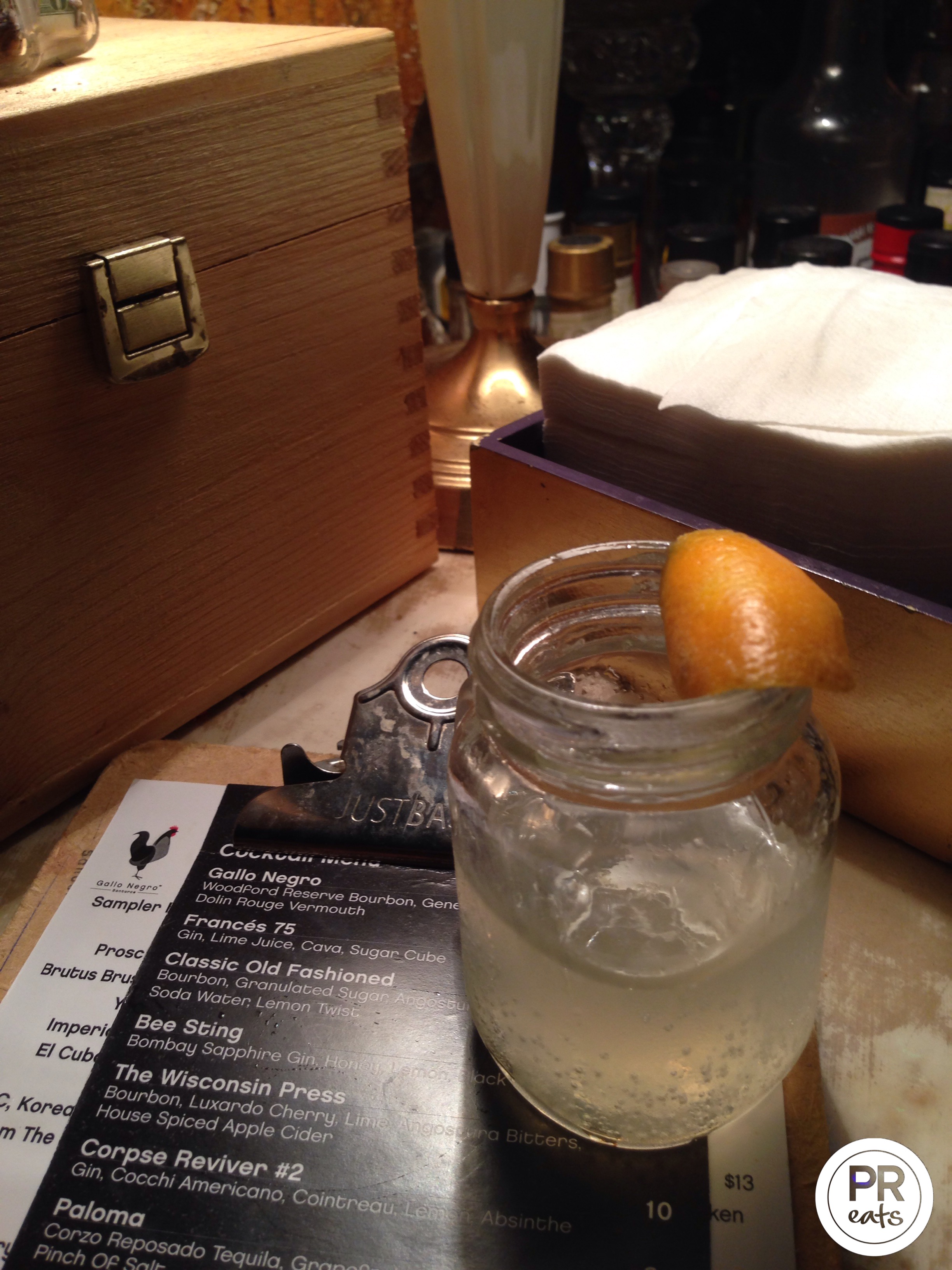 This is not your typical cheap pub grub. This is a diverse bar menu that caters to the most discerning palate. You can choose from Deviled Eggs made with gochujang sauce, Padron Pepper Poppers stuffed with cream cheese, Salmon Ceviche with soy sauce and lime juice, Korokke (Japanese style croquette), or Chicken Wings with white miso and garlic. At the bar, you will be given a card with these items. The serving size is one bite, so just write down the amount you want of each and let the culinary party begin.
Last week, we had the chance to try out the bar menu, as well, as some of the new seasonal items to be featured in the regular menu. As always, George hooked us up at the bar with some mouthwatering cocktails. First up were the deviled eggs. I am a sucker for them and had yet to find a place in Puerto Rico that serves this dish. Chef Maria added a Korean twist by adding gochujang sauce to the mix. For those of you not familiar with gochujang sauce, it is a mildly spicy hot pepper paste that is sure to have you hooked from the first try. Not only did they look great but were packed with flavor.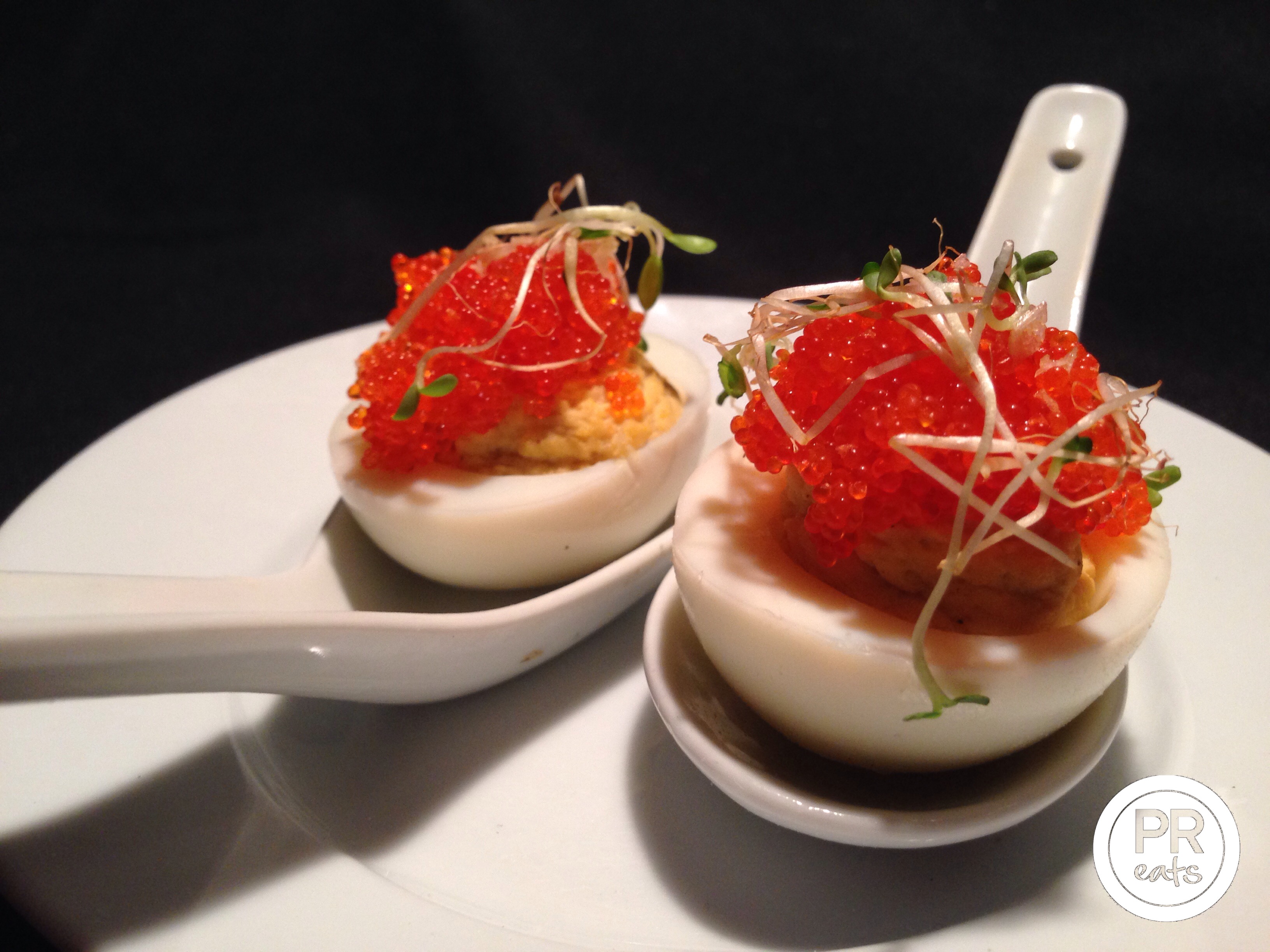 Next up, we had the Padron Pepper Poppers stuffed with cream cheese. If you like jalapeño poppers, you are sure to love these. Padron peppers are a mild pepper with a slightly sweet and smokey taste. Add the cream cheese and you have the perfect combination of flavor and texture.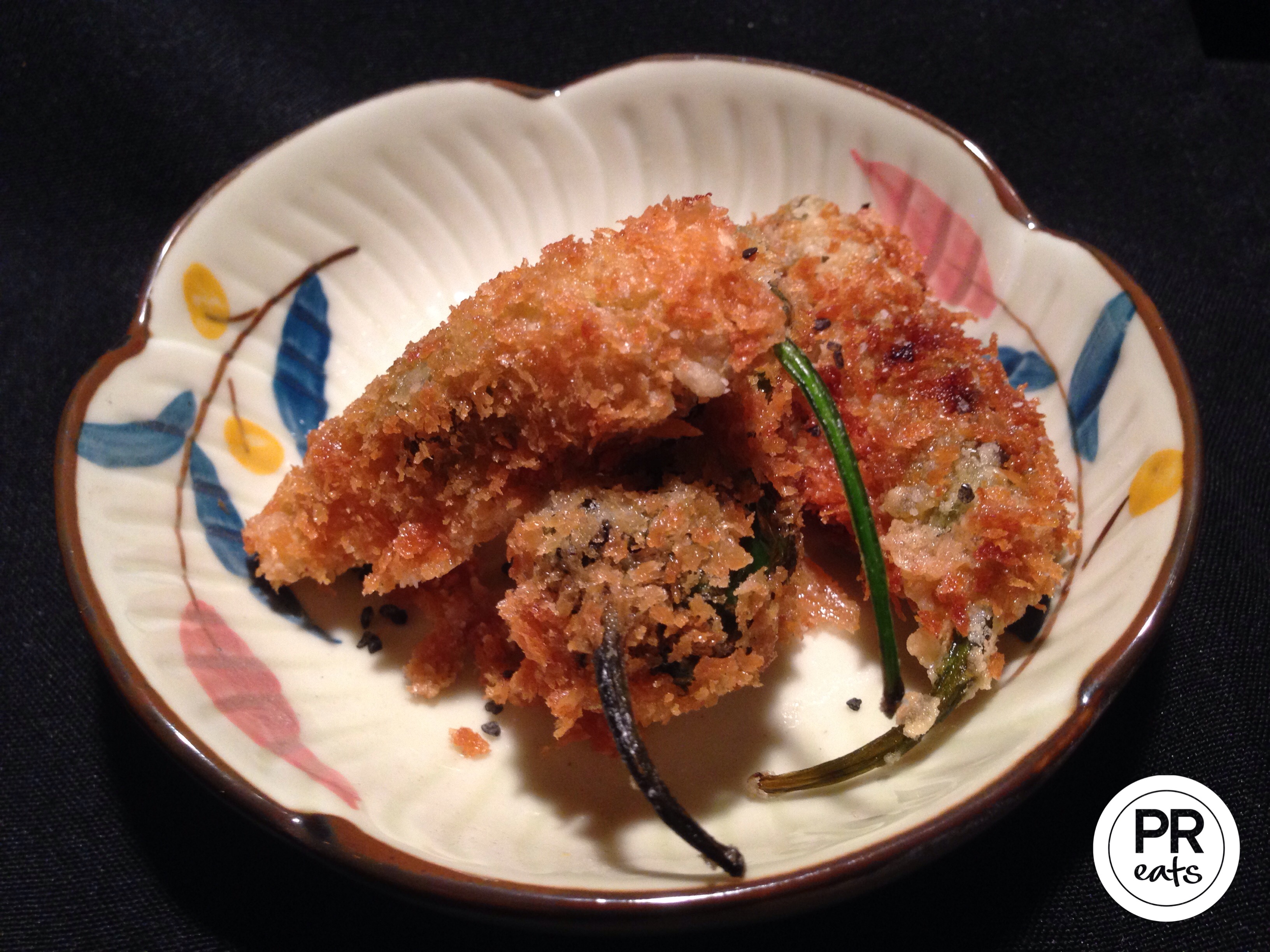 As our third dish, we had the Salmon Ceviche with Soy Sauce and Lime Juice. The fresh salmon's acidic marinade was complemented by the slight umami taste of the soy sauce. A scrumptious eat indeed.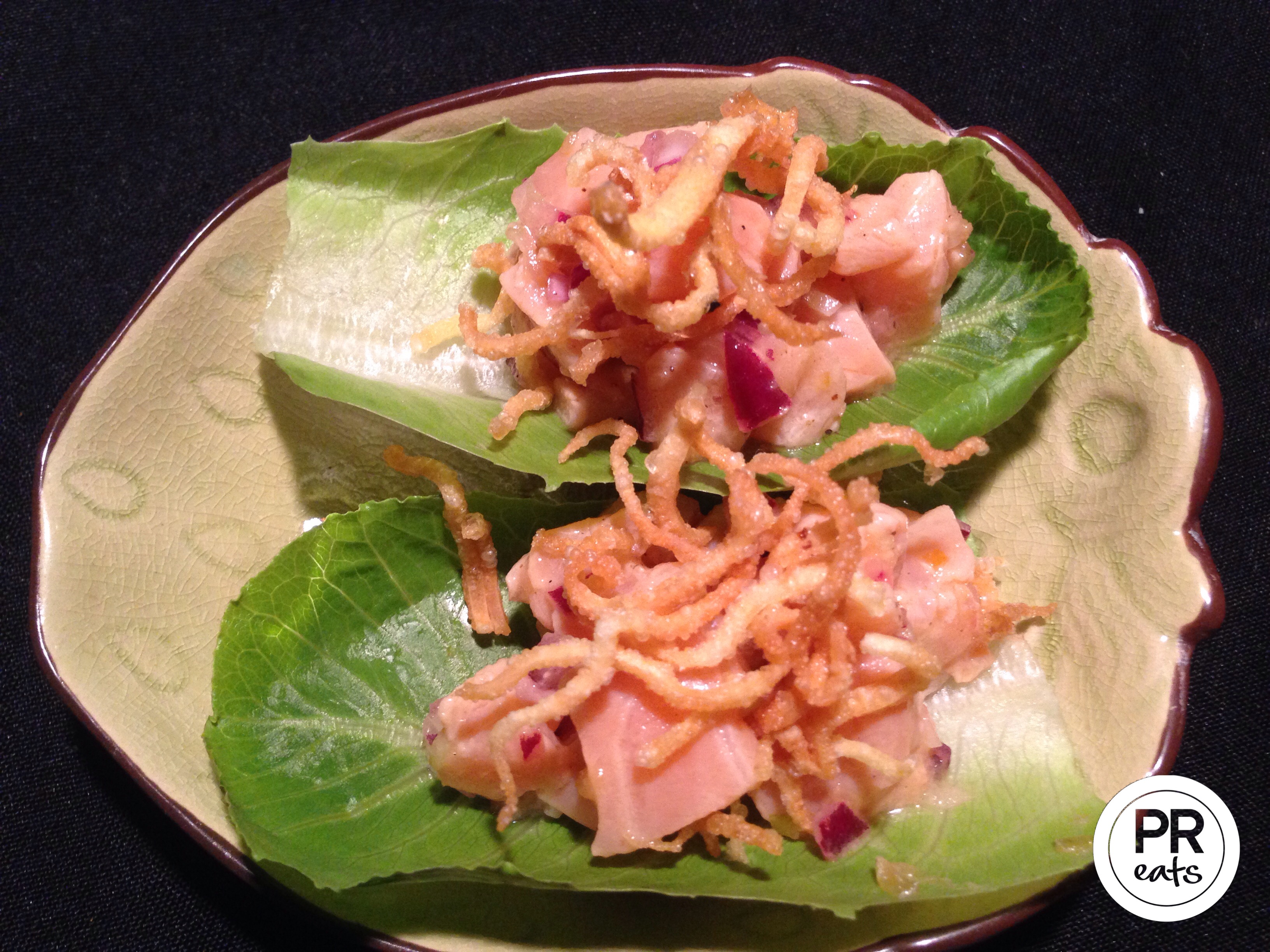 From the kitchen came out something I had never tried before, Korokke. It is a Japanese croquette made with potato and stuffed with manta ray on top of a squid aioli. Heaven in my mouth!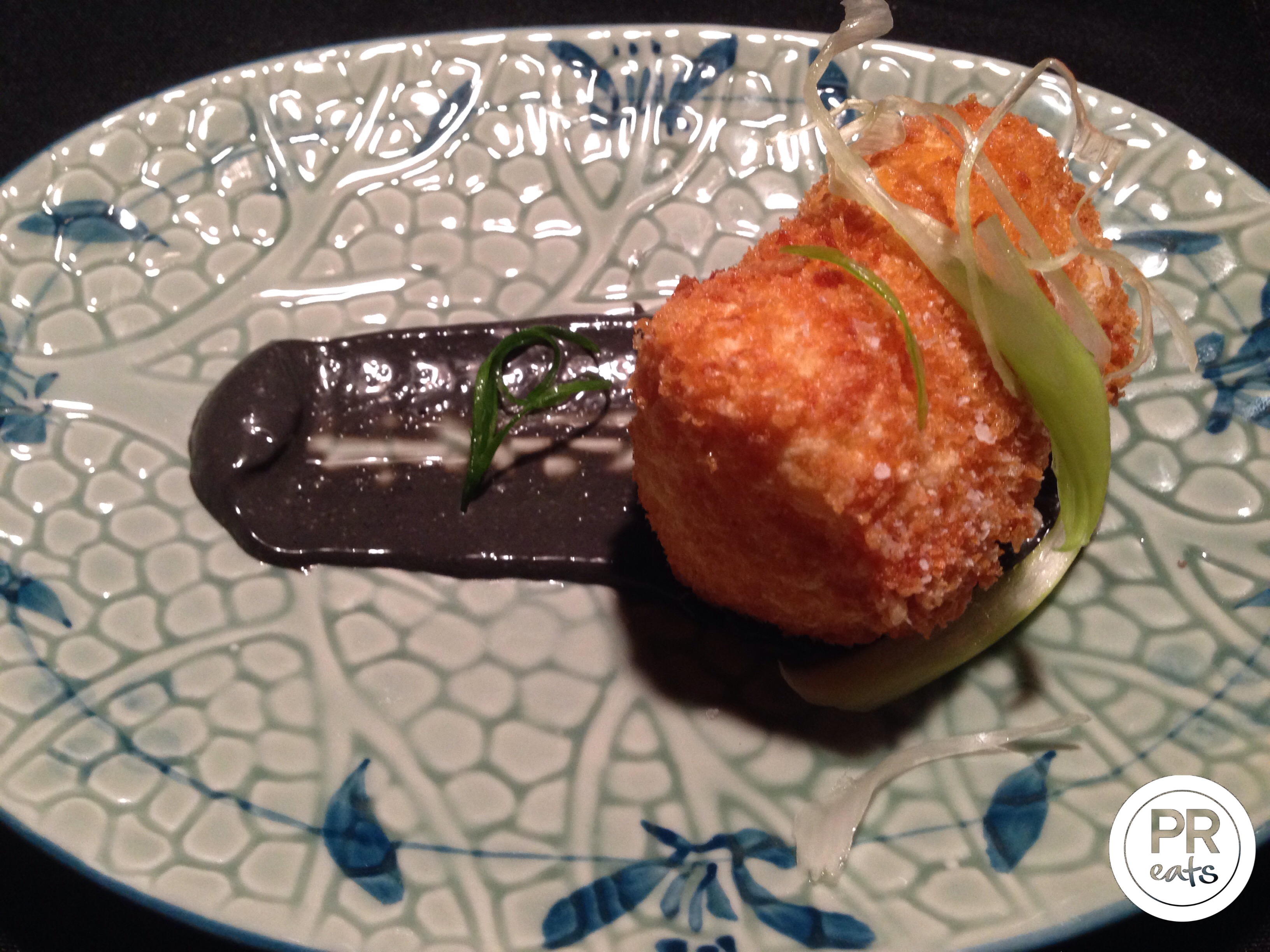 As our last dish, we had the Chicken Wings with white miso and garlic. The crispy wing was super moist and juicy on the inside and covered in the delicate flavor of the miso and garlic. The perfect complement to your cocktail.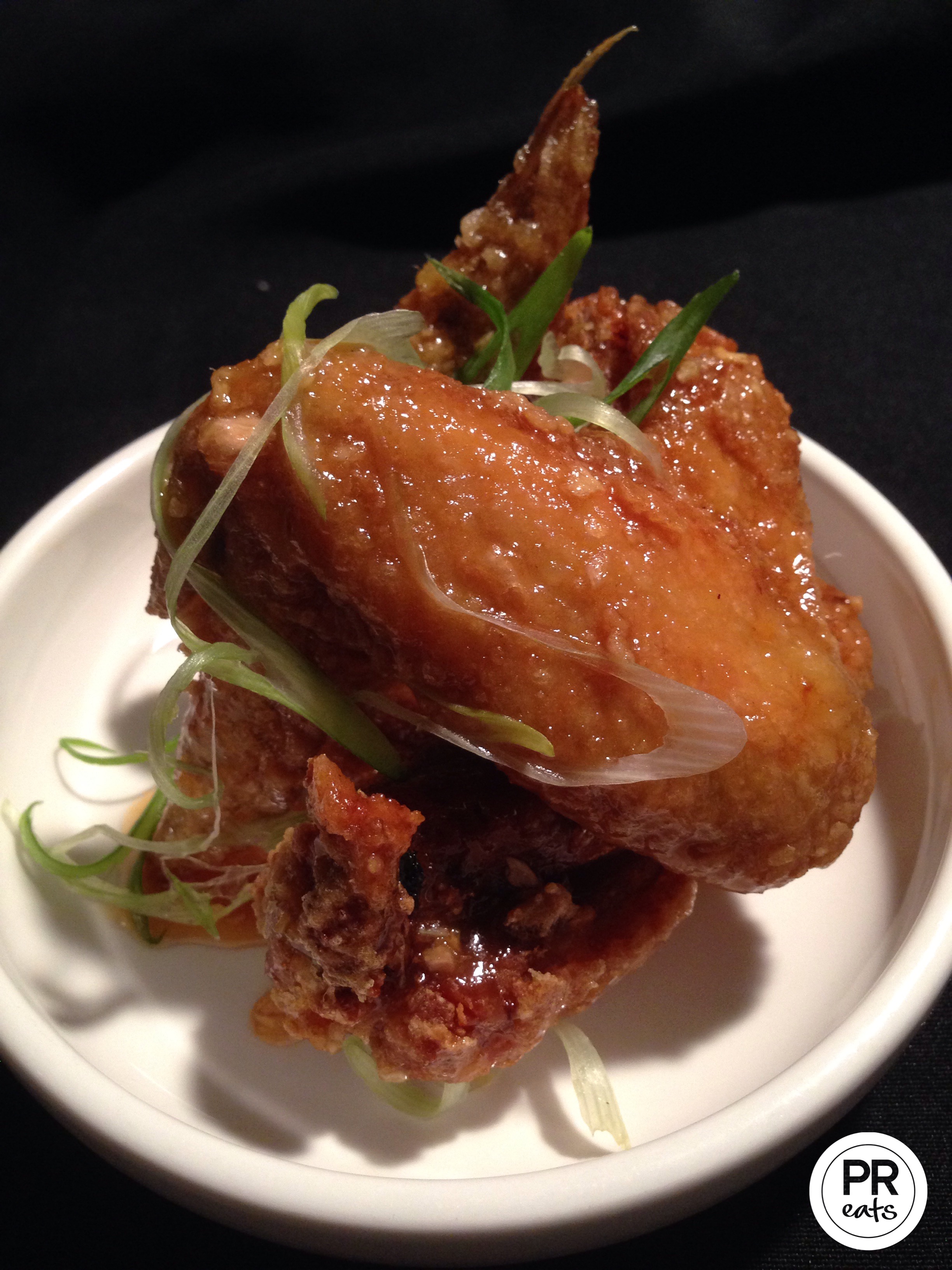 Don't be fooled by the price. All these eats are prepared without sacrificing the great quality ingredients you have come to expect at Gallo Negro. Insider tip: These dishes will also be available on Friday and Saturday after the kitchen closes.
As an added bonus, we also got to try a few of the new dishes of the regular menu. Up first was one of my favorites of the night, Johnny's Barcelona. It consists of French Fries, Spanish Salumi and Egg. It brought me back to my days in Madrid where I roamed the streets in search of fine wine and one of my favorite tapas Huevos Rotos, which this dish emulates to perfection. A must have when visiting Gallo Negro.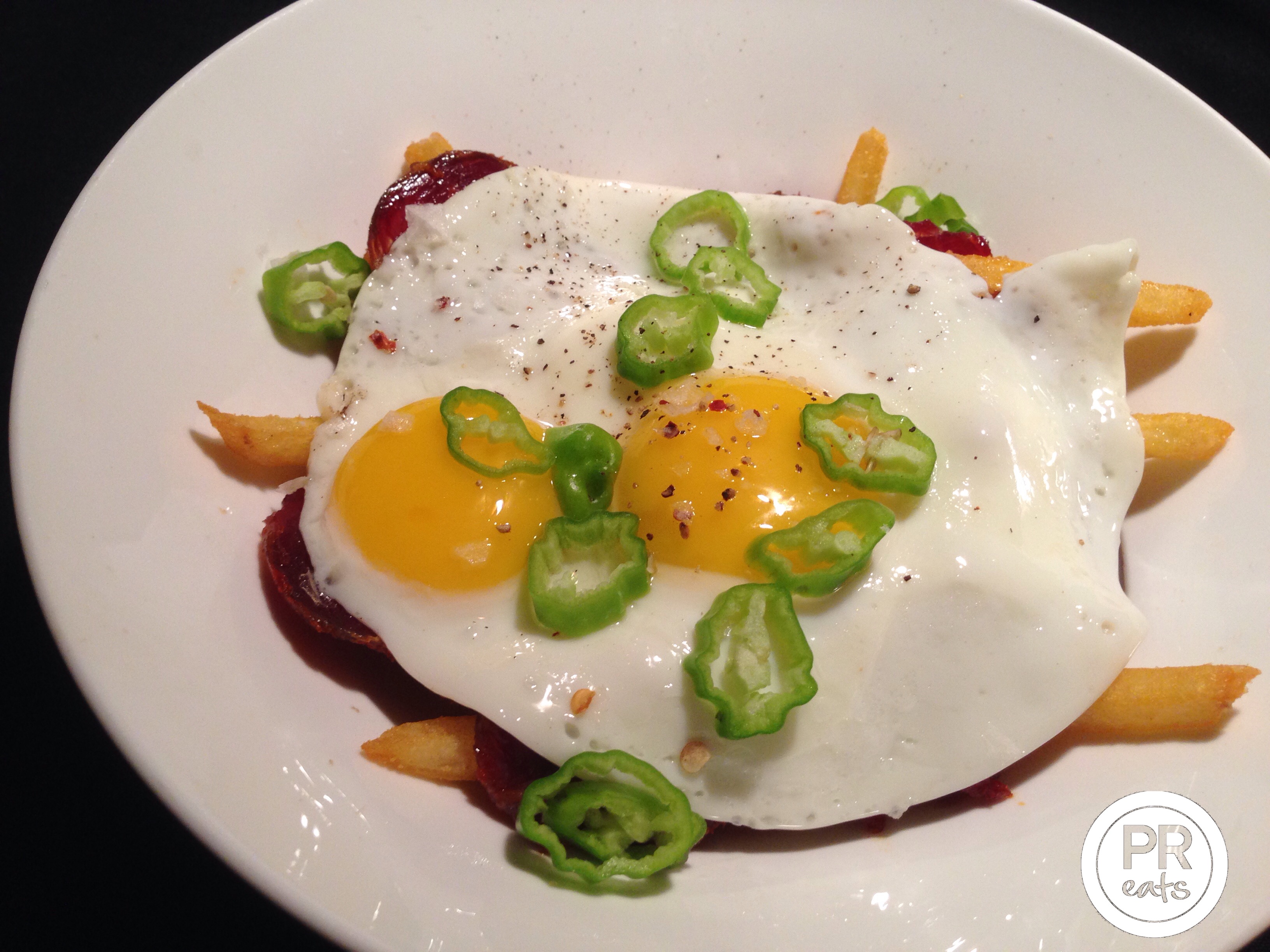 Next up were the Frontier Short Ribs (Bourbon and OK Cola BBQ Braised Short Ribs, Bourbon Maduros in Almibar, and Cannellini Puree. The incredibly tender melt in your mouth short ribs are sure to become a quick favorite among the guests that visit the restaurant. Nom Nom.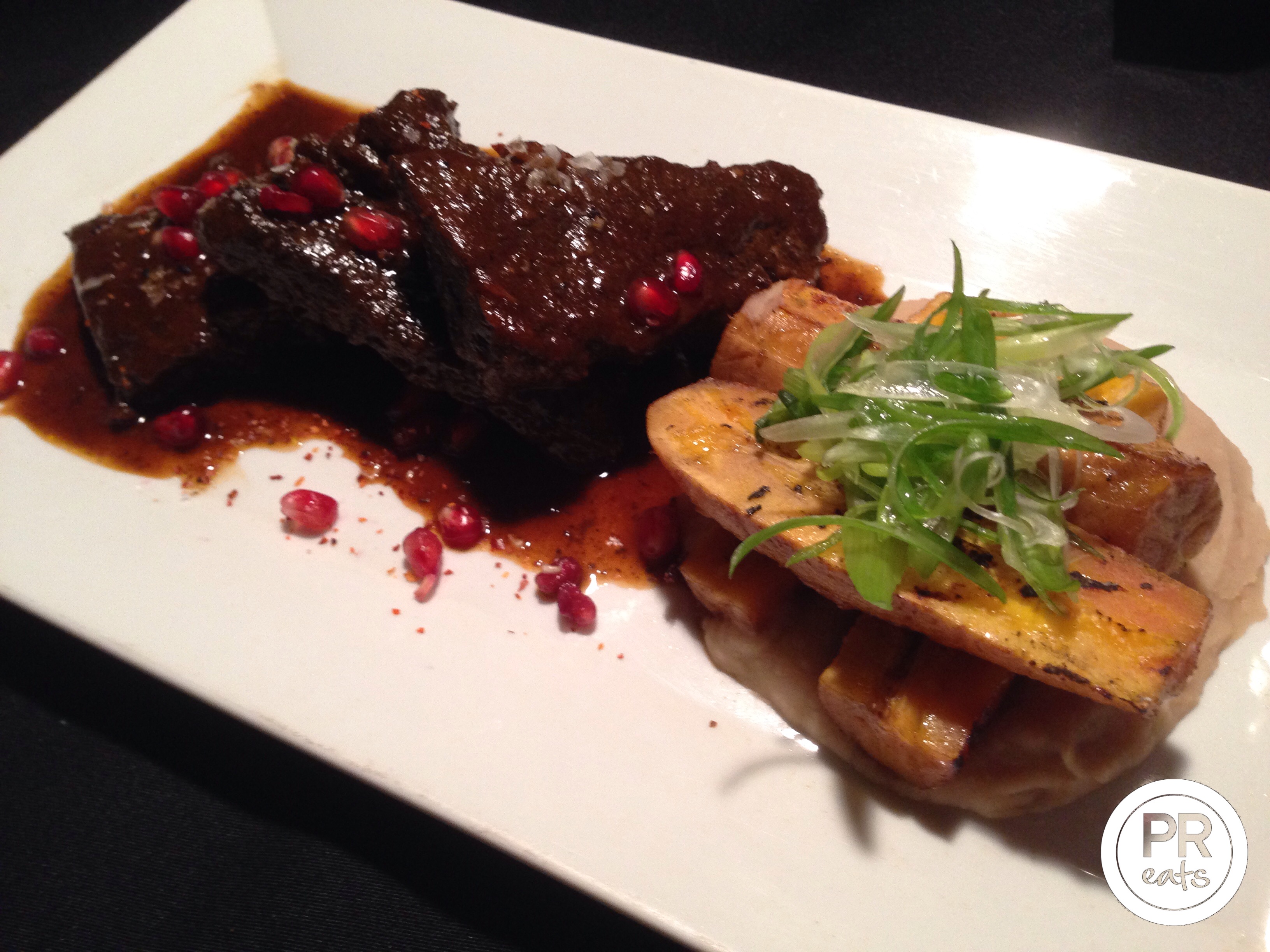 For the more adventurous eaters, I suggest you try the Barriguita de Vieja Chic. It is a Pumpkin and Langoustine Ravioli with Squid Ink and Sage Dust. The flavor profiles of this gorgeous dish are off the charts!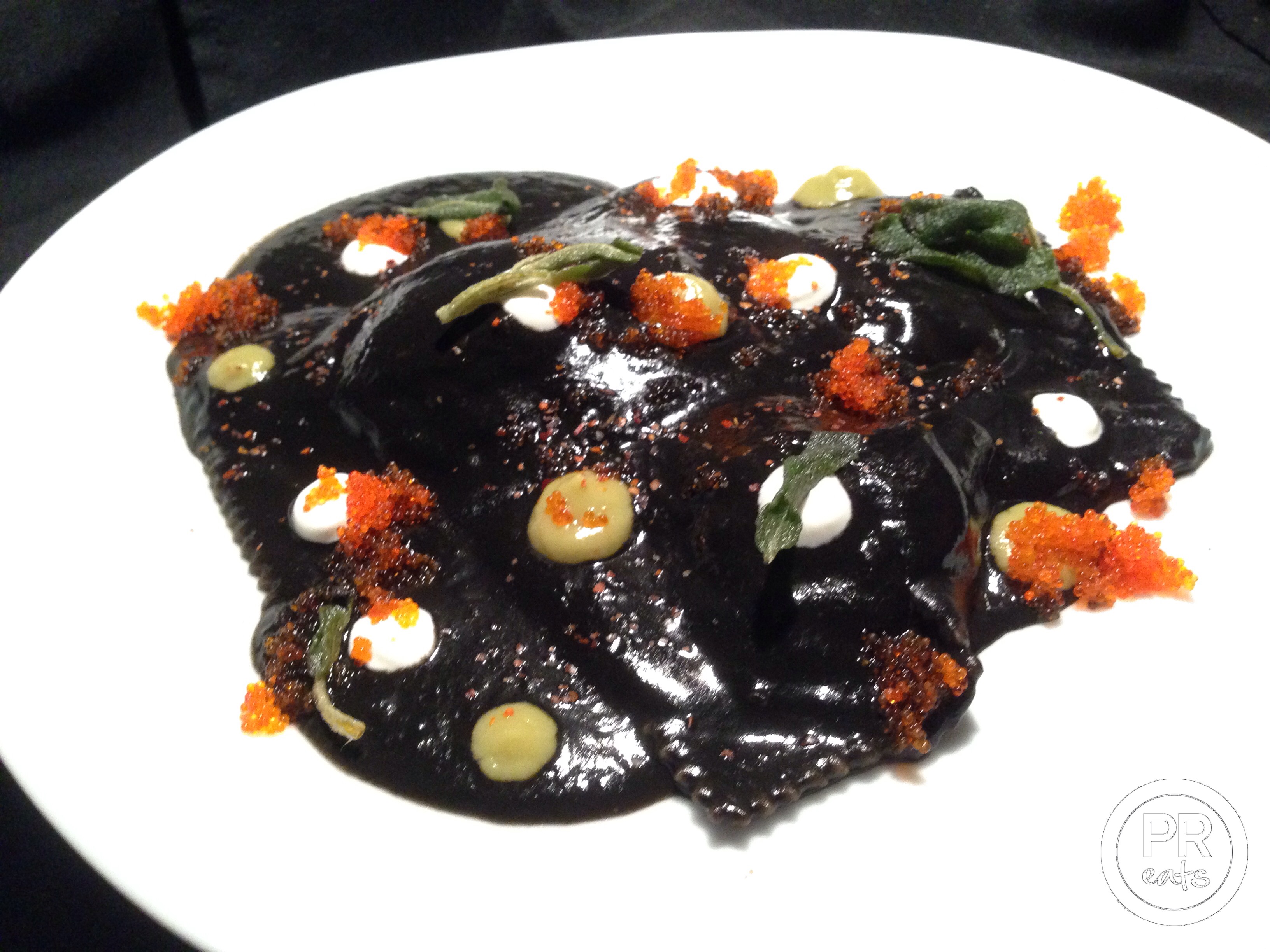 Finally, if you want a true reflection of what Christmas in Puerto Rico tastes like, I suggest you order the Sampler Navideño. You can enjoy crowd favorites such as Morcilla (Blood Sausage), Pork Pastel, and Pernil confit with a side of cranberry ketchup. All I can say is YUM!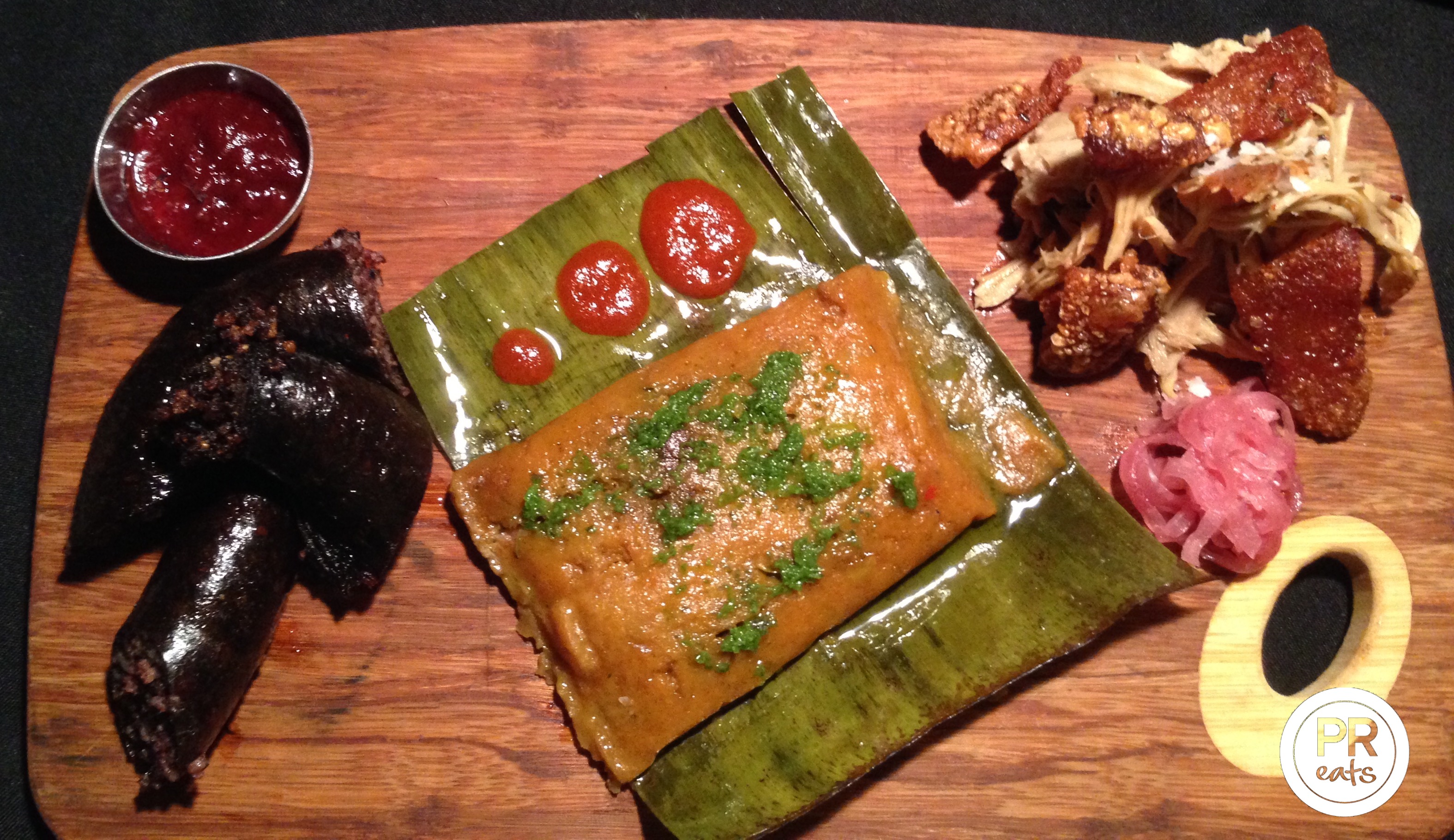 In sum, we guarantee that whatever dish you choose, whether it be from the bar menu or the regular menu it will be scrumptious. So stop by Gallo Negro to eat, drink, and be merry!
[su_note note_color="#e5e4e2″ class="infobox1″]Location:
1107 Ponce de León Ave. (Parada 16) right in front of the Electric Power Authority building (AEE).
[su_gmap address="Gallo Negro"]
Telephone: (787) 554-5445
Payment Methods: Major credit cards accepted.

Parking: The establishment has no parking available, however, you can park on the adjacent streets.[/su_note]
---
---
You might also like
---