There is no doubt that the restaurant scene in Miramar is experiencing a revival. It is now home to various up and coming restaurants which seem to pop up unexpectedly every few months. In the mood for French, Peruvian, Mexican, Italian, or Puerto Rican cuisine? Then you can find them all there.
Hidden away in Cuevillas St. in Miramar, just a few blocks away from the Fine Arts Cinema Cafe, is Soda Estudio de Cocina. It is a place where art, music, and great food combine to create a unique dining experience. Soda might not say much from the outside, but once you enter you can tell right away that it has a special charm. Just take a look at this gorgeous bar! The eclectic decor of the restaurant and its carefully crafted music playlist create a laid-back and chic atmosphere.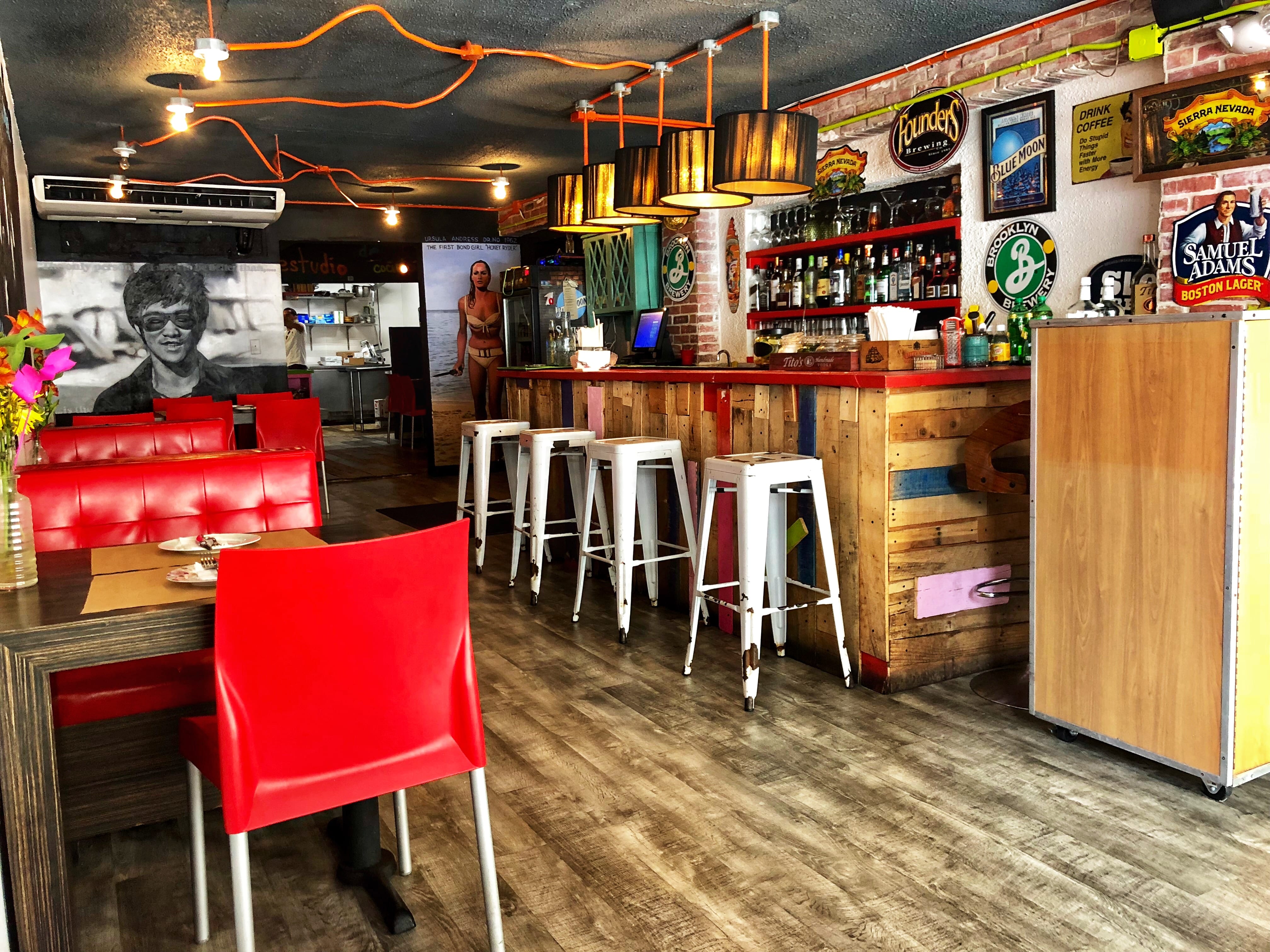 Last week, I decided to meet up for lunch with an old friend. While tossing around ideas as to where to go, I suggested Soda since she had never been there before. After sitting down and ordering our drinks, we took a look at the menu. We had a very hard time deciding on what to eat since many of the tapas looked amazing!
For the first dish, we ordered the Fried Pork Meat and Pigeon Pea Risotto (Risotto de Carne Frita). The dish was good and as you can see the portions are larger than your normal tapas. Its pretty much Soda's gourmet take on two traditional Puerto Rican dishes. Typically, the fried pork meat is served with mofongo or with rice and beans. On the other hand, pigeon pea rice is one of Puerto Rico's most beloved dishes that is usually prepared during the holidays.
For our second dish, we decided to go with something a little less traditional and ordered the Kangaroo Wonton Nachos with Pico de Gallo (Wonton Nachos de Canguro con Pico de Gallo). This dish was simply AMAZING! As an added bonus, below the crispy Wonton Nachos was a nice bed of spicy mayo which complemented the tender meat and pico de gallo quite nicely. This was hands down my favorite!
One of the things I like about Soda are the varied original food combinations offered on the menu. From smoked pork belly dumplings (YES!) to traditional mac and cheese (YUM!), there is a dish for everyone on this menu. The food is served "tapas" style, however, the portions are so generous that they can either be shared or ordered as individual courses. Worried about the price? Don't be! Their tapas range from $7.00 to $17.00 dollars which is a steal for the food quality and service you receive.
[su_note note_color="#e5e4e2″ class="infobox1″]Location:
562 Cuevillas Street, Miramar, Puerto Rico[su_gmap address="Soda Estudio de Cocina"]Road 413, Km. 2.8, Rincón, Puerto Rico[/su_gmap]
Telephone: (787) 998-9920
Payment Methods: All major credit cards accepted.

Parking: The establishment has no parking available, however, there is usually parking space available in the adjacent streets.[/su_note]
---
---
You might also like
---